Mechanics and Repair
Sort by: A-Z Newest
Professional Carbon Repairs and Custom Respray Highly experienced and qualified staff providing quality services including: • Almost invisible carbon repairs • Full restoration of branding and colour way • Full custom respray and design service • Paint repair and restoration • Incredible range of colours and tints • Free quotes • Free pick up and delivery in Sunshine Coast to Gold Coast • Best interstate freight rates all organised by us We have a great deal of pride in the bikes that leave our workshop.  We love to see your prized bicycle restored to their former or current glory and for you to continue to ride them as […]
(not workshop), 7 Rheims St, Holland Park West, Queensland, 4121, Australia
We are the Sunshine Coast's longest standing, independent and family friendly bike shop, servicing cyclist's for over 10 years. As the Sunshine Coast's leading Giant Bikes store we always promise to deliver the highest level of customer service. We take great pride in meeting all of your cycling needs, from your child's first bike to seasoned athletes taking place in world championship races. Over the last decade we have established a reputation for knowledgeable, honest & friendly service which we make our mission to maintain with every person we help. We sell Road, Flat Bar Road, Mountain, Hybrid, Folding, Kids, […]
122 Brisbane Road, Mooloolaba, Queensland, 4557, Australia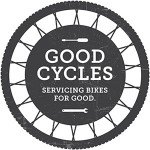 Good Cycles operates teams of mobile bicycle mechanics across Melbourne's CBD and close surrounds. We are also a non-profit organisation, with 100% of profits going to mentoring and training people in the community who need a helping hand.
Cnr Village STreet and Fishplate Lane, Docklands, Victoria, 3008, Australia
Rent carbon fiber race wheels! Free delivery Canberra-wide with extra services available
Garran, ACT, 2605, Australia
Melody Wheels provides professional wheel building services, wheel repairs, and wheel building courses for cyclists in Western Australia.
8 Pearse St, North Fremantle, Western Australia, 6159, Australia
Australia's largest and best equipped carbon fibre and bicycle painting facility.  Our repairs and paint work are undetectable, usually even the OEM could not tell.  All carbon work done in PrePreg carbon fibre, wet layups only used to match cosmetic weaves etc.  Don't mess around come to the best.  We are proud of our facility, we invest to give you the best and we welcome workshop inspections. 
79 Flanders St , Salisbury, Queensland, 4107
Protune is a Professional & Personalized workshop offering high quality services & repairs, as well as education & maintenance classes for individuals & Groups.
880 Samford Road, Keparra, Queensland, 4054, Australia
Rad Cyclery started business in 1998, closed for a few years in 2012 and re-opened in November 2015. Primarily a bicycle service centre, carrying a selection of parts & accessories, in-store & on-line, Steve Eggleton is a bike coach and bike fitter specialising in heart rate and power testing.
Shop 4/2 Grevillea St , Tanah Merah, Queensland, 4128, Australia
Bike servicing, repairs and spares. Also offering Workshop Nights: teaching riders how to service their own bikes and offering assisstance with online purchases. Our Services included: Bike servicing, wheel builds, fork/lefty service, bike fits, parts and accessories
298 Sydney Road, Balgowlah, New South Wales, 2093, Australia
Sydney Bicycle Restorations has now closed for business
Crows Nest, New South Wales, 2065, Australia