Download Report: The Ultimate Guide
Shopping for bicycles and cycling gear online
The 2010 report has been downloaded over 10,000 times!!
The comprehensive report with insights into the Australian Online Bicycling Retail Market.
---
Now Available
The 2013 Australian Online Cycling Marketplace Report and Survey (Click)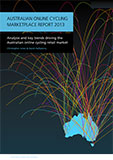 ---
2010 – The Ultimate Guide – Shopping for Bicycles and Gear Online
Part 1 For cyclists:
A comprehensive guide to purchasing online – find the right shop, know what to look for and understand the pros and cons and potential hidden costs
Part 2 For Wholesalers, Retailers and Bicycling Trade
This secttion is for importers, local bike shops and online retailers and provides and overview of the current market status with statistics. It includes strategies for operating a successful online shop and also useful information for traditional bricks and mortar bicycle shops to better understand new sales channels and adapt as the markets change.
If you wish to get a copy of the 2010 Ultimate Guide – please request a copy and provide the following details.

---
Introduction from The Ultimate Guide:
Shopping for bicycles and cycling gear online.
From the BNA survey of 261 Australian cyclists conducted for this report, 50% of the entire spending on cycling related items in 2009 was online. This represents a significant change when compared with consumer spending ten years ago, though is hardly surprising considering the influence of the internet in today's society. The internet is challenging the traditional retail practices of the LBS (Local Bicycle Shop) as consumers have access to more information and competitively priced products from across the globe.
The results from the online BNA survey of 261 Australian cyclists are the foundation for this report and conclusions. The survey is not a representation of
all Australian cycling consumers; however the results do represent a cross section of the consumer market who are confident using the internet. In addition to the survey, selected cycling retailers participated in a questionnaire to gather industry input.
There are two parts in this report, the first, Best Practices for Buying Online is a guide for consumers and outlines the online purchase process plus advantages and risks associated with shopping for bicycles, parts and gear online. LBS's with little internet experience or who are struggling with their online shop will also find useful information to assist in better satisfying the needs of online customers. The second part, Australian Online Bicycling Market, highlights the motivations and factors influencing consumer buying decisions, online and offline. It offers an analysis of the survey results and is of particular interest for the Australian bicycling trade as well as international brands and retailers.
The BNA survey results are also provided in conclusion as a reference.