Sports Optical: Prescription Lenses for Brand Name Cycling Sunglasses
Sports Optical make prescription lenses that were previously thought impossible. Sure, there are plenty of big manufacturers who make frames that take prescription lenses, but these frames are made to fit the lenses, not the other way around. Sports Optical claim to be experts not only in optometry, but in the specific needs of the sport that we love, while offering a wide range of frames. The lens manufacturer from Denver, Colorado noticed a growing number of orders from Australia and they reached out to Bicycles Network Australia to "see" if they could impress us with their wares.

The Demo Pair: Rudy Project Zyons
In order to test Sports Optical's claims, I decided to see if they could fit a prescription lens to a pair of Rudy Project Zyons. While many Rudy Project sunglasses are designed to take a prescription insert, Sports Optical claim they are able to create a distance or even multi-focal lens for almost any model in the Rudy Project range. The Zyons are a tough frame to grind a lens for; they wrap around quite a lot and have large lenses. It would be quite a challenge to get a clear image out of every angle due to the large curvature.
I provided my prescription details (it's best to scan your full prescription printout), selected the frame, and about 6 weeks later I received a pair of Rudy Project Zyon glasses with a polarized brown lens in a -1.00 prescription. While this is a mid-to-low power prescription (it can get a lot worse than this), it's still a reasonable challenge to grind for a wraparound frame. Also included, surprisingly, was a matching pair of clear lenses for winter riding.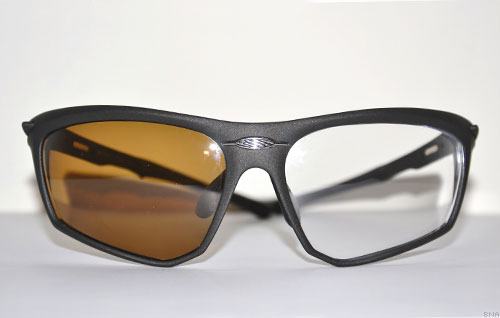 First Impressions
At first, I thought something might have been wrong. Something didn't feel right. And after speaking with Sports Optical, I  received a lesson in prescription lens manufacture. Making a curved lens is a highly specialised procedure. Since the frames are not the exact same shape as your eyeball, the lens manufacturer has to estimate the distance from your pupil to the lens and adjust the magnification appropriately. In the case of my Zyons, I needed to sit them a bit closer to my face, which then brought things into alignment.

In Use
I was really impressed with the overall product. On the bike, the glasses Sports Optical provided were light, clear and comfortable. I saw no noticeable distortion and no glare in my eyes when the sun was behind me. I enjoyed using them so much that I took I took the chance to try these out in various other sports for comparison.
Touch football and soccer proved to be no problem. Cricket and tennis, however, highlighted the inherent compromise of a heavily curved lens. There was sometimes a slight distortion in tracking a ball's flight through my peripheral vision. With my regular, flat-lens glasses (non-tinted), I've never noticed any of these anomalies. This really turned out to be the only area in which I could notice a real-world effect of the highly-curved prescription lenses. Interestingly, I was extremely surprised at how quickly I was able to get used to this. If you engage in ball sports regularly, however, it is worth considering whether curved prescription lenses would be suitable.
The Rudy Project Zyons frame and Sports Optical lenses were really well suited to cycling. The slight lens distortion that was noticeable in the peripheral vision for ball sports never affected judging distance on the bike, picking up irregularities in the road or anything else. Small details on the horizon were just as sharp as the stones and bitumen in front of my tire.
Of course, polarized brown are just about the only way to go for picking up this detail. Grey lenses wash out the contrast of shadows, which are so important for judging distances and depth. In very low-light situations, a rose lens can provide the contrast of a brown lens, while not blocking too much light. Sports Optical can provide all of these in the prescription that you need.
As mentioned, the lenses that Sports Optical provided were very light. They're made of polycarbonate, have excellent impact resistance characteristics, and can be treated with additional anti-scratch coatings (for a small additional fee, with a 2 year warranty).

Purchasing
Buying glasses online can be intimidating. Fit is very personal and it can be a disaster if things go wrong. Sports Optical were extremely helpful in answering my questions and seemed genuinely passionate about what they do. While many companies see the internet as a chance to distance themselves from their customers and make everything automated to increase volume, Sports Optical encourage anyone interested in buying from them start up a dialogue first – they want you to let them know what you want, what you like and what you're looking for so they can help you throughout the entire process. Their staff can help you select a style that will suit or advise on lenses. They're available through Facebook, email or even telephone.
Being a manufacturer, they are able to customise almost anything too. We began to discuss custom grindings and tintings and I quickly got out of my depth. Photochromic options are available, along with custom vents or anti-scratch coatings and more. In my case they were proactive in ensuring that they had everything they needed to be able to deliver a flawless product.
Overall, Sports Optical are attempting to provide the personalised service of a bricks-and-mortar from the other side of the world. In our view, they're doing a pretty good job of it. I know what I like in a pair of sunglasses and I've spent more than I'd care to imagine on them in the past. After discussing my needs with them, Sports Optical suggested almost exactly the same lenses (colour, polarization, tint) I'd picked out and paid for myself just a few months earlier. Passing this genuine test gave me real comfort in writing this review.

Pricing
The prescription lenses from Sports Optical start at $195 with the upgrade to polarized another $54 on top. Purchasing the frames through Sports Optical was cheaper than sourcing it elsewhere and the overall package represented a decent discount on what I could get from a local bricks and mortar store. The big advantage, as I see it, lies in their custom solutions. The cost of this, I know from experience, escalates quickly when dealing with retailers, but seems much more reasonable with Sports Optics.
Sports frames start at $89 and second lenses qualify for a 20% discount. Returning customers (and their extended family!) also receive a 20% discount off their entire order. So, as well as very personalised advice and custom solutions, the possible savings really start to add up.
Being an overseas company, Sports Optical can't directly bill your health fund provider. However, they can provide invoices and proof of purchase, and you can then apply for reimbursement. It's worth calling your health provider to ensure you know the cover they are able to provide, and what they need to process this.

Conclusion
Sports Optical have done a remarkable job of fitting a wraparound style pair of cycling glasses with a prescription lens. For riding, the acuity is excellent. Of course, there are inherent challenges  in trying to fit lenses to difficult frames, but you do get the benefit of being able to chat with the very people who will be making your glasses and they will let you know exactly what can and can't be done.
It really makes sense to take your time when ordering anything online, especially when there are a lot of variables that you need to consider. Sports Optical tell us that this is what they want to be known for, taking the time to give you good advice. So if you're interested, give them a call or drop them an email and they will be more than happy to help you through each step of the process.
You can check-out Sports Optical online, www.sportsoptical.com or send them an email and tell them that Danny from Australia says "G'Day".
3 responses to "Sports Optical: Prescription Lenses for Brand Name Cycling Sunglasses"