Watching me, watching you – BlackVue Sport SC500 Action Camera
Published: 3 February 2014
For cyclists, the advantage of a sports action camera can be twofold: they allow you to capture and share radical footage and, increasingly, they offer cyclists a type of insurance in the unfortunate event of an accident. You will rarely spot me cycling without a camera and I have been able to capture naughty motorists who have almost knocked me off (despite cycling defensively and courteously), as well as stunning video from mountain bike and road cycling trips.
The BlackVue Sport is a brand new contender in the sports action camera market. BlackVue is a brand from the Korean company Pittasoft who have already made a name for themselves with car dash cams and are now seeking to expand. The BlackVue car dash cams have a tubular format but, for the BlackVue Sport, they have opted instead for the GoPro 'block' style format and, before it hits the market, Bicycles Network Australia was invited to review a preview model.
The BlackVue Sport SC500 features full HD recording with 1920x1080p viewing resolution and up to 60 frames per second. It relies on a Sony Exmor 12 mega pixel sensor which are renowned for the quality of video with low light conditions. Sony are, incidentally, now using their new 16 mega pixel version of this sensor in their own cameras.
The SC500 package includes the camera, an outer-shell (frame mount), adhesive pads, battery, cable and two mounts. The mounts are GoPro compatible and, even better, the camera comes with an additional a camera screw thread mount (1/4-20 UNC) which means it will fit on a standard tripod to provide more creative mounting options.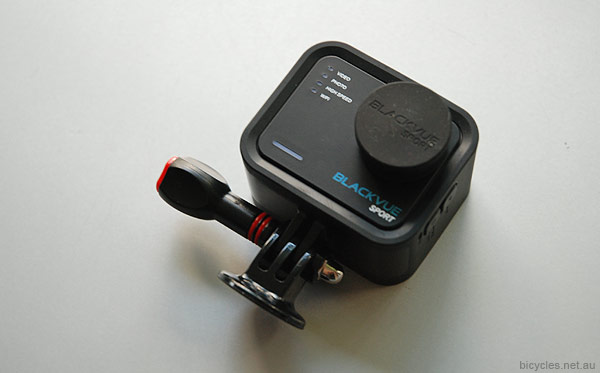 The camera itself is supplied with a lens cap, something which many of the big name action cam brands neglect. This means that it can be more safely transported, although I admit that I misplaced the lens cap a number of times. The main camera unit itself is light, compact and attractive.
When the camera is recording there is a flashing red light on both the top and front of the unit, which is really handy, and small blue lights on the front signal the current camera mode (video, photo, or high speed), as well as whether WiFi is on, so there is no guessing or deciphering cryptic symbols or flashes for this basic information.
The most immediately obvious feature of this action camera is its LCD display, which adds 1 centimeter to the size of the unit. The LCD screen can be turned on and off independently of the camera, so it doesn't need to be on while recording, but it does provide visual information for using the menus and adjusting settings to allow your 'shot' to be nicely set up.  The icons on the display are quite small and there is a slight learning curve although, on-the-whole, operating the camera is fairly intuitive and in most cases it will be 'set and forget'.
I was happy with the camera's default settings which use the highest video resolution (1080p) and was well suited for cycling. The high-speed recording may be of interest for fast action footage with 120 frames per second, although the maximum video resolution drops to 720p (i.e. HD, which is 1280 x 720 pixels). The still-photo resolution is a whopping 4000×3000 pixels, however the photo function doesn't seem to make sense on the bike.
While the weight of the LCD screen is negligible, and both the frame mount and the waterproof mount accommodate the LCD display, the screen is actually removable. For some sports a display screen may be convenient, but for cycling it isn't necessary, especially when the screen's functionality is accessible via a smart phone (iPhone or Android). This means the camera can be mounted in a waterproof case or on an unreachable part of the bike, and still be controlled effectively if your phone is mounted on your bar or stem.
A completely removable plastic cover on the side of the camera reveals USB and HDMI ports (the USB cable is provided) and a slot for a Micro SD card. As this cover wasn't hinged, it was easy to misplace. Even with the camera in the frame mount there is access to this door and I suspect that if it isn't put snugly into place, it could potentially fall off. It is not a deal-breaker, but there is room for improvement.
For this review I recorded using a quality SanDisk Mobile Ultra 16GB HC memory card. This is a 'class 10' card which, in broad terms, has the fastest data transfer rate and is best suited to recording full HD. If you are planning to film at full HD (1920 x 1080) avoid SD cards with a lower class (eg, 6, 4 or 2). Although they will be cheaper, they are also progressively slower and may have trouble keeping up (and cause problems in the video or stop recording). To make it a little more complex, there are also UHS (Ultra High Speed) cards which are faster still and each brand has different names and configurations, so stick with a quality brand, ensure it is Class 10, and no more than 32 MB (as spec'd by BlackVue).
Having used my Micro SD card in other sports action cameras, I needed to first format it before the BlackVue would recognise the card. I didn't spot a format option in the 'on-camera' settings, however the smartphone app provides this function.
With the review unit a frame mount for the camera was provided; a robust rubberised exoskeleton that allows the camera to be mounted on your bike. The mount, however, is not waterproof and a clear plastic waterproof hardcase was not available for review. The frame mount was straight forward to use and the camera fit securely, with cutouts on the top for the microphone and on the side for cable and SD card access. Inside this frame mount, the camera buttons can still be operated (they are little tougher) and with easy cable and SD card access the camera could remain permanently inside this case if this was your preferred mounting option.
Actually, I felt quite uncomfortable removing the camera from the frame mount. To do so I had to press against the LCD screen and apply enough pressure to push the camera unit out of mount. It just doesn't seem right pressing that hard against an LCD screen, for fear of permanently damaging the electronics. When using the camera on the bike, the BlackVue smart phone app provides access to all of the settings (more on this soon) and lets you see what the camera can see which suggests that this LCD screen is superfluous.
Mounting Options
The BlackVue comes with adhesive patches so that you can mount the camera to your helmet however, for cycling, I prefer a bike mounted camera, so I simply ignored the mounts provided.
Mounting on a bike means there are more bumps and vibration passed to the camera, so to avoid "rolling shutter" (that nasty Jello effect) you need to minimise the vibration, and the best way is to throw away your plastic mounts and go for an alumnium mount such as the K-Edge GoBig which I use exclusively for all sports camera mounting specifically for this reason.
Mounting is straight forward though and, even though the frame mount is very secure, the LCD display is exposed, so I was conscious of my gear cables coming into contact with this and was careful to prevent knocking or touching the lens. I couldn't take the detachable LCD screen off because the camera unit would then move about in the frame mount.
Watching You, Watching Me
Despite the details and specifications, it is the video quality that counts. This short two and a half minute video combines different sequences and provides a comparison between different weather conditions (sunny verses overcast), as well as different road surfaces. Note: YouTube have compressed this 1080p Full HD footage.
In bright conditions, the colours are saturated, though not so much that the video appears too gaudy. The Sony image sensor does a really good job of providing sufficient contrast when there are shadows and bright areas. The following images are resized screenshots from the video.
The  solar flare effect when pointing at the sun was softer than on other cameras I have used (remember this doesn't have a waterproof case) although there was often a strong pink tint. In the following video still the road surface reveals pink and green tones as the camera tries to quickly adapt to the light.
In low light with clouds, the image darkened to compensate and at times the entire image felt rather dark and moody, however the overall visibility and distinguishing features was generally very good. Against a brighter sky, the dark and shaded areas lose detail, though in comparison my older GoPro Hero1 has grainy video with a lower resolution and the darker areas are usually black.
The sharpness and detail of the image was very good and only during fast light changes, such as riding beneath trees or in very low light conditions, was this image sharpness affected with pixelation/fragmentation of the image briefly visible.
Rolling shutter (in which the video has a jello effect because of rapid movement) was an issue with the BlackVue. Although this is generally eliminated with the K-Edge GoBig mount, the camera's frame mount is responsible for allowing additional vibration and flex to distort the image. The frame mount uses a flexible rubberised material (with in-molded stiffer plastic for the mounting bracket) and because of this flex it means there is more movement in comparison to a solid waterproof case.
I compared sequences from the BlackVue with the worst rolling shutter problem to footage from the same stretches of road shot using other other cameras – all of the other cameras have hard waterproof covers and, as a result, had less or no rolling shutter in the same sections.
With this in mind, the waterproof case would be necessary for mountain biking and preferable for road cycling. In addition, it reduces the risk of water damage if there is a sudden shower or water obstacles. That said, a sealed waterproof case can introduce a new problem of fogging (as the camera heats up while sealed) which likewise needs to eliminated.
It's all in the detail
The ability to distinguish number plates was dependent on the light conditions, how far away the vehicle was, and the speed of the vehicle. Reading the number plates of vehicles traveling in the opposite direction was difficult, however the number plates you are more interested in recognising are usually from vehicles who pass too closely or are directly in your path.
To test this in practice I chose a number of brighter and darker instances where a car was close enough and in each case the video detail was clear enough to relatively quickly identify the numbers and letters. Sometimes a bit of scrubbing (manually moving forward and backwards in the video) was necessary to be confident of a correct plate.
The viewing angle for the BlackVue Sport is 157° – in between the 120° and 170° viewing angle options common on action cams. While there is curvature of the footage, which is completely normal, the resulting video was natural and well proportioned.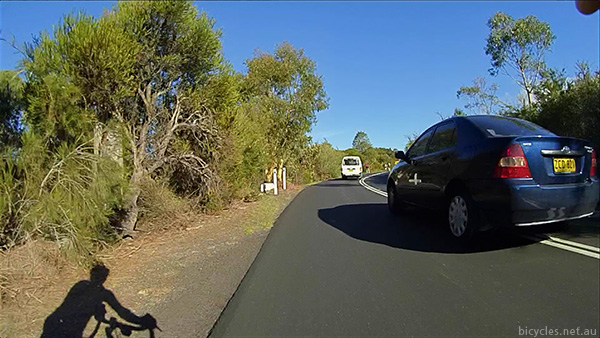 How it all adds up
With the Class 10 16GB Micro SD card onboard and filming at the highest video resolution of 1080p (1920×1080), I would get between 75 – 82 minutes recording time before the battery ran flat. This would amount to footage of 9 – 11 GB in size and split into 1.99GB MP4 video files.
Before you say 'hang on', the company claims 2 hours runtime at 1080p and 30 fps, I have already spoken with Pittasoft who make the BlackVue and for pre-production models, such as the one I have for review, some of the performance targets aren't yet met; they are aware and working on this to ensure that they can reach these targets when it goes to market.
I continued testing run-time however, while the WiFi and LCD screen were off, to try and get a longer battery life. When I removed the LCD completely I could increase battery life to 96 minutes. The battery life on this pre-release model is comparable to my old GoPro Hero 1. The new GoPro Hero 3 Black Plus has an updated battery which increases the run-time from 90 minutes to (a claimed) 2 hours. The Sony Action Cam which I currently have in review comfortably gets 110 minutes, so a 2 hour battery life for 1080p filming would put the BlackVue in the same ballpark.
Wireless Access
This isn't a complicated camera to use, and it isn't packed full of useless settings, so WiFi connectivity is a big feature and BlackVue deliver it with an iPhone and Android compatible app.
In short, the Wifi functionality was just as difficult to setup as I have experienced with other camera's and suffered from the same WiFi instability – but when it was running properly it offered even more features than available operating via the LCD display and enabled you to view the video live and access the files.
Having proceeded with the WiFi setup of this camera, for the benefit of owners I am including key details and new information (not available online or in the manual) that enabled me to connect. When this camera goes to market it it likely that some of these may be resolved / updated so simply skip to the next section if this isn't relevant.
Connecting to BlackVue… The Missing Link
The manual provides some information how to create a WiFi connection and I eventually succeeded with trial and error as well as direct feedback from Pittasoft.
1. If your app crashes when trying to connect, old firmware is the most likely problem. Download and install the new firmware for the camera. The firmware.bin file needs to be copied onto the camera memory card and the camera needs to be turned off and then on. The camera should then ask you (on the LCD display) if you wish to proceed and install the new firmware.
2. Disconnect your smart phone from any existing wireless network and connect to the SC500-XXXXX network. If you have previously experienced a crashing app, first chose 'forget this network' (on the iPhone) and then reconnect.
3. The password to connect is "blackvue" in lowercase, and not uppercase as stated in the manual.
4. Download the latest BlackVue app and, in theory, you should be able to connect and use the app.
In use, the wireless connection would sometimes remain stable while at other times it would drop out frequently, even when the smartphone was right next to the camera. I did have a bit of wireless noise with various devices which may have caused problems.
Coming Soon…
The BlackVue is a good sports video camera; the everyday cyclist would benefit if there was a version without the LCD screen and with a compact waterproof case. I was very happy with the level of detail and quality of the footage. For extreme action footage, such as downhill MTB and big jump, this is a very competitive camera that will deliver stunning footage when it is setup well.
I can say this with one reservation: the price has not yet been released, nor has the release date for the camera been confirmed. Pittasoft say that they are working to ensure that it is 100% when it goes to market. If the price is competitive against the other big market players such as GoPro, Drift, Contour, and Sony, and Pittasoft can get good distribution to Aussie retailers, then this will be a winner. And if they can provide a slim waterproof mount, then it will be an excellent lightweight, high quality camera for cyclists.
Until then, further details of the camera are online at www.blackvuesport.com and I will provide an update when this camera is released.