Pandani – Stunning Cycling Wear from Japan
Do you remember Team Rock Racing? They were the wild boys of cycling with Tyler Hamilton, Óscar Sevilla, and even Italian superstar Mario Cipollini forming part of the team roster. Along with the Rock and Roll attitude came the Rock and Roll styling, which was a refreshing contrast to the sleek logo clad lycra uniforms which are the default for road racers. The team has since evolved into R5 Rock Racing and lost its visual flair. The new fashion movers and shakers are performance and style orientated cycling brands, such as Assos and Rapha, who set themselves apart with subtle branding and clean lines.
But life on the road doesn't have to be squeaky clean; the young Japanese brand Pandani has a jaw dropping style that says "This is the future". On the one hand they have beautiful modern interpretations of classic Italian styles, while on the other they tap into Japanese design style to create cultural mash-ups and science fiction combinations. The innovative approach for their women's road and urban cycling wear incorporates a skirt and is simply stunning.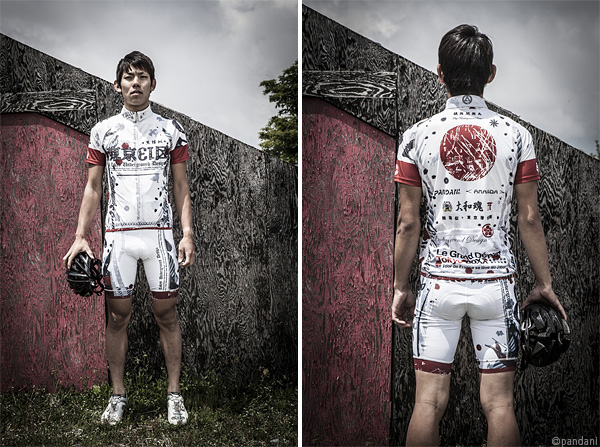 The lead designer is Chihiro Abe, a photographer and enthusiastic cyclist who has his studio at the foot of Mt. Fuji. In creating the style for the Pandani brand he is accompanied by a team of "fine arts' qualified designers. The main office and design centre for Pandani is in Harajuku, which is the 'place to be' for fashion in Tokyo.
I asked Tomowa Matsumae what makes Pandani so special, "Our designers are artists; so we leave cost out of the equation and instead produce the cycling wear that we think is best. We are always striving to be new. For example, there are buttons which we use on the collars of the jerseys that have been exclusively designed."
Tomowa continues, "The other factor is that our designers are passionate about cycling, in a word they are OTAKU."
Pandani go beyond the race specific and functionality conventions when creating their innovative cycling wear by also making them fashionable. The cycle wear comes at a price; many of the jerseys are around $180 (and shipping from Japan is ca. $10) which means means that you can sport a truly unique cycling kit and get all of the looks in your next big ride.
At BNA we look forward to checking out this kit in more detail. Pandani present all of their styles in the online shop: www.pandani.jugemcart.com
2 responses to "Pandani – Stunning Cycling Wear from Japan"