Rubena Kratos and Scylla 29×2.25 Greyline Tyres Review
Rubena tyres hardly need an introduction, the Czech brand was favorably reviewed here on Bicycles Network Australia 18 months ago with the 26″ MTB tyres Kratos and Scylla knobblies enjoying a good slice of the action on various trails throughout New South Wales. The single compound tyres have proven to be tough and hard-wearing. In fact I still have them on my 26er cross-country hardtail that I occasionally use for commuting. They refuse to die.
In the past few years half the mountain bike world has moved to 29'ers (and some to 27.5″) and I've been interested in trying Rubena's dual-compound Greyline models for some time on my 29er. The distributor, PCI Imports, has graciously provided a set, along with their new latex sealant for review.

Mounting
As with the 26er version, these tubeless tyres sealed up easily. A little care was required to make sure the bead was pulled out of the valley onto the shoulder of the bead seat, but I was able to get them to "bead up" on Stan's Crest rims with just a track pump. Letting the air out and removing the valve core, I fed half the blue Rubena latex sealant into each tyre, reinserted the valve core, pumped them back up to 40psi, and took them for a spin around the block. I then left them overnight and checked them the following morning. Both still held pressure, so the sealant and Tubeless Supra casing had done their job.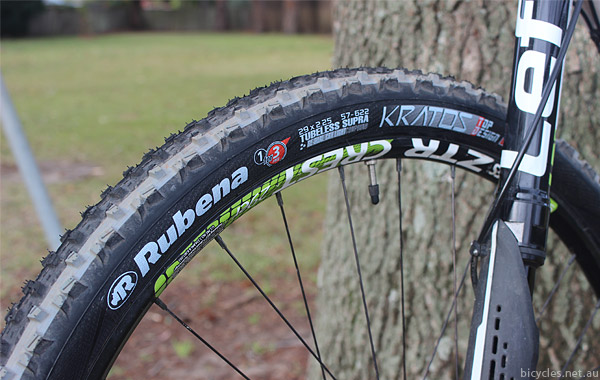 One thing I noticed was that – like the 26er versions tested in 2012 – the bag size appeared small for a nominally 2.25″ casing. Out came the vernier and they measured up at 53.5mm for the Kratos and 53.1mm for the Scylla – about 2.1″ – fitted on the 21mm inside width Stan's rims.
Weight came in at 775g (700g claimed for the single compound version) for the Kratos and 620g (635g claimed) for the Scylla. While those weights are a fair bit more than the market leading competitor, the market leading competitor is known for its less than stellar sidewall life. For typical east coast Australian sandstone and granite trail environments, having a bit more heft and longevity becomes a bit more important than saving the last hundred-and-a-bit grams, especially when the price of failure can be a few hours walking back to civilisation in difficult terrain and chilling conditions.
The Ride
Learning from experience, the front was fitted in the reverse direction. Initial setup was 24psi on the front and 28 on the rear for my ride-ready eighty-odd kilograms. Where the 26er single compound version took a while to get sorted, I felt at home with these straight away.
The softer shoulder compound makes a noticeable difference to cornering confidence and overall they feel like a bigger-bagged tyre than their actual 2.1 inch width would suggest.
This is not to say they felt bogged down and heavy to pedal on the hardpack. Quite the opposite in fact; they roll really well. The best way to describe their "feel" is a sense of smooth plantedness and compliance that matches well with the trail.
So far I've ridden these tyres at Manly Dam and related feeder trails, Terrey Hills, St Ives, and most recently at Mount Annan Botanic Gardens at Round 4 of the Shimano GP. This selection covers a variety of terrain that includes sandy fire trails, rocky outcrops, leaf litter-covered singletrack, and bermed singletrack buffed by hundreds of riders passing though per hour.
The Kratos front hooked up well. The removal of doubt enabled me to look further up trail and concentrate on maintaining flow and railing berms. Braking traction was excellent. Steering transition from side to side was also very good, with no vague spots where the tyre starts to get slippy before biting again.

The upside from this is the ability to stay off the brakes more through the twisty sections of trail, conserving momentum and effort more than is possible with a lower tread height tyre that is unable to provide the same levels of cornering confidence.
As a rear the Scylla works well with the Kratos up front. Climbing and braking traction is good, and rolling resistance is very competitive. The only time it skipped around was descending the very steep rocky chutes. When stepping to the side to allow faster riders through at one point on one of those sections at Mt Annan, I could hear most of them skidding and skipping around too. I've made it up the notorious pinch climb at the end of Ku Ring Gai National Park's Long Trail without having to put a foot down, so climbing traction can't be bad.

Some racers use the Scylla Greyline as a front tyre, matched with the low tread profile Zefyros on the back for minimal rolling resistance. While this combo would fly on dirt roads and buffed trails, the Scylla is a very condition-specific tyre if you are planning on using it this way. As a rear, it is an excellent all-rounder dry conditions rear tyre.
While it is too early to tell how long the Greyline models of the Kratos and Scylla will last (I've only ridden a couple of hundred kilometres on them to date), my impressions of them so far are good and I expect similar results to the 26er tyres reviewed earlier.
The Rubena tubeless sealant was included as part of the review, however it is difficult to comment on its puncture-curing properties as I've suffered none to date. So far it has done its job of sealing the sidewalls and keeping the tyres inflated. I will say this: it definitely provides a measure of confidence to be using the manufacturer's own sealant. Some brands have in the past proven to be less than tolerant of popular third-party sealants and have suffered early failure, with owners being left out pocket between vendors pointing fingers at each other. With both tyre and sealant coming from the same vendor, this is unlikely to happen.

Conclusion
The Rubena Kratos and Scylla are an excellent general conditions combination for cross country trail riding and racing. The Kratos up front provides plenty of bite, and is forgiving of the unexpected without bogging the bike down, while the Scylla on the rear keeps the rolling resistance competitive and provides good climbing and braking grip. Sidewalls appear to be well constructed and tough enough to survive real-world trail conditions.
Despite their less-than-specified bag size, they ride like a wider tyre offering a smooth, compliant, confidence inspiring ride.

Likes:
Cornering predictiability and forgiveness
Braking and climbing traction
Smooth, well damped ride
Very competitive rolling resistance
Ease of fitting tubeless
Well-constructed
Handle like a bigger tyre
Dislikes
Smaller than marked dimensions.
The Rubena Sealant retails fro $14.95 and the Rubena Greyline 29″ Kratos and Scylla tyres retail for $84.95 each
The Rubena range of tyres, including road, commuting, downhill and BMX are available from Bike Shops throughout Australia, dealer locations can be found on the Rubena Australia website.