New, Wild and Wonderful Bikes and Gear from Eurobike 2017 – Day One
Published: 31 August 2017
Apple orchards, bike lanes and happy people on happy holidays remind you that you are back in Lake Constance in the south of Germany. In an ironic twist, traffic jams are dominated by cars plastered with bike brands which means that the world's biggest bike show is underway, welcome to Eurobike 2017. To beat the traffic I have joined a small but steady stream of bike riders who are travelling to the show the smart way… (by bike). 
With 1,400 exhibitors on the cards, the halls are packed and there are throngs of visitors around each corner. A few big brands such as Specialized, Giant, BMC and Cannondale are missing (they run their own dealer shows) but their absence doesn't make a dint – it just allows other brands to get some of the highly prized floor space.
This photo-series has impressions from day one at Eurobike. As the exhibitors in the halls are typically grouped into categories, in this series bike tech such as e-bike features heavily.

Garmin have just announced their new 1030 cycle computer – key functionality is the option of an external (Garmin) powerpack to extend the 20 hour batter life to last days plus more detailed training options.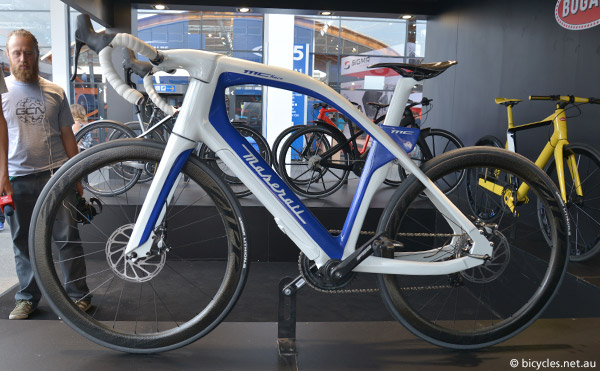 The Maserati road bike is a bit awkward, but appears to hide a battery and motor. In the background, the yellow Bugatti city bike is a whopping €75,000. That is not a typo… if you want one it will cost over AUD100,000.

German bike bag brand Ortlieb are bringing bike-packing to the world… waterproof, functional and sexy.

Pirelli have just started this year with bicycle tyres, very exiting however appeared a little bit lost in the crowd with no staff or information.

Bosch is one of three companies presenting ABS braking for bikes… Anti-lock braking is now a 'thing' and this generation borrows from motorcycle and automotive tech so the control box is quite large.

We reviewed the first Coros helmet with audio via bone conduction – this is a protoype of a new MTB styled helmet planned for 2018.

Taiwanese company Exustar have a diverse range of shoes and pedals, this has a carbon fiber sole that wraps around… interesting idea but I don't know if it would work in practice.

Compact bottom bracket motors don't have to be about mechanical doping, the young Munich based brand Fazua are have a bottom bracket drive which has less torque than the big motors from Bosch, Continental, Shimano and Co…. but promises and quieter and seamless ride.

This reminds me of gearbox from a car… It works the same way but is a gearbox for a bike by German brand Pinion. It features a gear range of 600% in a fully enclosed system with a comparatively small footprint which suits commuter bikes and mountain bikes.

Andrew Hagen (ex Cycliq) and Rob Ward of Quadlock (smart phone mounts for bikes) are just two of the many Australians who are exhibiting or visiting Eurobike this year.

This model is demonstrating Sealskinz socks from the UK brand. The merino wool socks have layers with a membrane so provides moisture wicking but also keeps your feet completely dry when submerged in water.

Spray.Bike are aerosole spray cans that bike lovers DIY – from bike restoration to just bling, you are in control of the aerosole and can colour your bike happy!
Stay Tuned for more from Eurobike 2017. You can also see highlights on Twitter and Instagram @bicyclesnetau