Hot bikes and gear – photos from Eurobike Day 2
Published: 1 September 2017
If you really wanted to see everything at the Eurobike bike show, it would be a lost cause. With 1,400 exhibitors and a host of peripheral activities, the show is a feast. In the photo-series from Day Two of Eurobike 2017 you will spot both new and exciting cycling gear from big brands and from new brands from which you haven't seen before.
Without delay, here are the highlights from day two of Eurobike (which ended fairly soggy and meant a cold slog through the rain by bike to get back to get back to the accommodation).
BMC bikes have abandoned the IMPEC bike, but the lab remains the testing and innovation facility. On their new BMC Teammachine, the 'integrated' stem has a nice clasp and computer mount solution.

Bike security doesn't have to be boring, these bike stands won the eurobike gold award for a good reason.

Bianchi and Ferrari launched a partnership for the 'ultimate; road bike.

The new top-model fizik Infinito R1 feature a construction of the upper-sole that allows a much better fit.. while looking hot.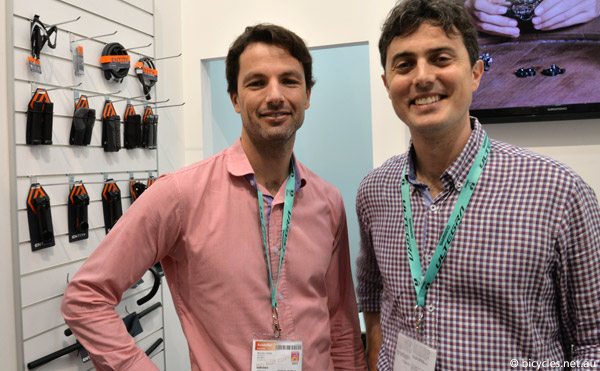 James and Johnathon of Bicycles Online in Australia are now looking beyond the shores and seeking to expand internationally.

Knog are releasing their new PWR ranger with interchangeable light heads and battery packs so you can tailore the lights to suit your requirements.

Masterlock goes digital with bluetooth to control the lock.

Oakley prove that lenes chose is more than personal preference with the prism lenses.

A classic, the comfortable Rolls saddle from Selle San Marco gets another design variation.

Sella Italia ensure that your classic demands are easily met.

Swiss brand Suplest have a sucessfulful partnership with MAAP which is delivering stunning shoe design.

The $10,000 TACX indoor trainer on track changes elevation…the platform raises at the front.

Functional bikes is a continuing trend which Tern are pioneering.
Lighter, more durable, better puncture resistance and compact. The turbolight inner tube is better in every way… but costs $45 a piece.
Stay Tuned for more from Eurobike 2017. You can also see highlights on Twitter and Instagram @bicyclesnetau