Interview: Trent Fitzgibbins of M2O Industries – Australian Compression and Chamois Cream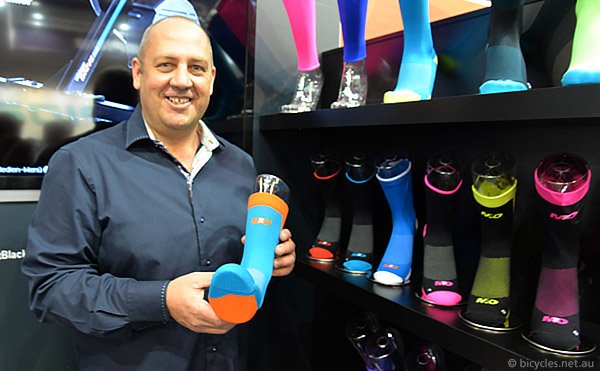 One of the brains behind the successful Australian brand JetBlack is Trent Fitzgibbins and in 2017 he launched a new brand called M2O Industries which makes compression garments and chamois cream. After selling his share of JetBlack (which has a core range of indoor trainers and an array of accessories) the step into compression and chamois cream means he remains in the cycling-space, but it is also a change in direction. The M2O compression and chamois creams are a different kettle of fish to mechanical trainers and accessories. 
When I met Fitzgibbins at the Eurobike tradeshow in Germany, he was exhibiting a colourful range of compression socks and seeking to catch the interest of international retailers and partners. In conversation he is direct, preferring to get straight into the thick of it. He lends the impression that he is constantly processing and analysing information to find the right response and to ensure that a discussion is purpose driven. For Fitzgibbins, brand success is a given. The R&D phase for M2O is complete and the task at hand is the methodical approach of growing the distribution channels and marketing.
Like many Australians, he also has the twinkle of the eye which is enough to keep potential partners and buyers on their feet, but adds an air of likeability.
First Look at M2O Skin Protection Chamois Cream
Is it M20 or M2O? Although the packaging shows a zero, it is actually a capital O. I assumed that it stood for Mountains to Ocean because it would be unusual to name a cycling brand after a British motorway.
I was given a sample of his new M2O Skin Protection chamois cream, it comes in a 100ml tube and is quite dense in consistency (making is hard to squeeze out) so it could almost be described as a 'hard' chamois cream. Soft chamois creams in comparison have the consistency of face cream. The packaging labels it as 'concentrated' and "endothermic' suggesting that it starts to work when your body warms.
During testing I was happy with the M2O product. My rides of late however tend to be sub 100km trips on the road bike or MTB. The real test are the longer distance rides where the chamois cream is eventually absorbed by your cycling knicks and diluted by sweat making it less effective as your moving body and rubbing increases the demand for saddle comfort.
One things I noticed is after riding and soaking my cycling knicks (I soak them before they go into the wash), the water pearls and is repelled from the areas that were in contact with the chamois cream. I typically apply chamois cream directly onto the skin in the 'sit bone' areas. Some riders will need more coverage… or perhaps none at all. In any case, it was noticeable that the water was not soaking into the chamois at the contact areas which is good sign because sweat soaked cycling knicks are a catalyst for saddle sores.
Over four months of testing I am however fairly confident that it is performing exactly as it should and the tube is still half-full. Depending how much you use during a ride, it can last fairly well. At $16.99 for 100ml and Australian made, it is the right price.
For the compression socks, I have not yet tried the M2O compression wear and look forward to reporting on this in the future.
Interview with M2O Industries Founder Trent Fitzgibbins
Getting time with a busy man who is launching a new brand internationally is a challenge though M2O founder Trent Fitzgibbins agreed to take on a few questions from Bicycles Network Australia about his products and his business strategy.
Christopher Jones: For both the chamois cream and compression wear you are entering a competitive market, what has drawn you towards these segments. 
Trent Fitzgibbins: Yes that's a great question, I never would have thought I'd be in both of these areas of manufacturing. I have a friend which is a highly experienced scientist who has worked for years treating skin ailments and curing skin conditions.
So we got on the conversation about what makes the difference between a good Anti Chafing cream and a great one and that's where it all began one day. So soon after i enlisted his help to set out on my mission with a simple statement "Imagine! What if we could make a great Anti Chafe Cream to solve all stages of chafing and stick them in one bottle"
Once we had an expert on board, we were able to really get our heads around exactly what is needed to stop chafing. We learned that not only does a cream have to 'activate' through all levels of sporting performance, it also has to allow vitamins to enter the skin that simultaneously help prevent chafing and work to repair damage.
Also, we quickly learned that a single use product simply doesn't provide a complete solution to chafing. There are many creams on the market that aim to prevent the issue of chaffing, but they don't address the discomfort or the damage. Others provide pain relief but don't do anything about the cause of chafing. Along with that, the majority of companies add water in their products to make them go further and reduce production costs. We don't, we decided to make the best product possible and manufacture it without compromising our goals.
So really it was simple, we came up with a 3 in 1 formula that addresses all areas – M2O Anti Chafing Cream is scientifically formulated, a high performance, triple action treatment, which is concentrated for fast results. It helps on multiple levels, alleviating and restoring in micro-layers.
Our chafing cream is different because it; prevents the friction that irritates your skin, relieves your skin during physical activity and, restores problem areas, allowing for recovery after you're done for the day
With the Compression socks, I was researching all about the benefits of the product and was quite shocked to see the medical reports, studies and journal articles, which showed how much a compression sock could really add value to your well being in your every day life, as well as the benefits it added to your overall performance, especially through recovery in the sports arena.
For the last 19 years working in the bicycle business I have been lucky to have worked with the world elite. Helping to develop products which would contribute to them going to the next level in their fitness and handling skills. When I looked, I noticed only a few companies doing compression socks really well, I also noticed that these companies had been focusing only on certain areas and not targeting aggressively an innovative approach to cycling.
With the recent explosion of active wear clothing, I really felt that for the average cyclist/sports person was uninformed about the specific benefits of compression socks, it was a well kept secret that should be exposed and sort to add value to people's lives by telling the proven scientific story and committing to taking an innovative approach developing cutting edge products in this area.
It's really cool what we have been able to achieve in our design approach with our M2O Compression socks they help in the following areas,  Enhances your performance,Reduces muscle fatigue and injury, increases blood circulation, supports muscles ,faster recovery decreases soreness, Helps prevent swelling, delivers more oxygen to the muscles, removes metabolic waste just to name some things. And the great thing is we have been able to manufacture a sock that retails still for between $20-$25 in Australia for an ankle, mid and crew compression sock. Which also has the following features impregnated into the yarns such as Antimicrobial fabric, stain resistance, Anti Bacterial, heat transfer system and amazing wicking properties . So why would you really want to buy standard socks any more when you can get our fully functional socks at the same price as a standard sock.
I also have a friend who's wife is one of the top 5 vein specialist in Australasia who accepted a position on our advisory board which has been a great asset to us. Along with her joining the M2O family, I sold a small amount of shares in my company to another friend who is a doctor that specialises in sports injuries in Australia. So I was very fortunate to be able to surround myself which such a great team with so much knowledge from the outset, that also carry the same thought pattern in our approach to products of "What if we could…"
We are involved from the beginning in the manufacturing process of our products, from input to how our yarns are made and incorporate add steps in what we needed to be added into the process to achieve a Compression sock packed with as I mentioned above.
Christopher Jones: Your range lends itself to road cycling, will this be your primary market for your marketing and sponsorships? 
Trent Fitzgibbins: Thats an interesting observation. To start with we designed a very conservative range because we had a global vision for our product distribution, so we wanted to make sure we got traction in some International markets straight away. But that range was well taken up not only by road riders, we have seen huge success in MTB already along with another bunch of areas that has surprised us.
We are working with a handful of athletes right now that are ranked in the top 10 UCI World rankings. Through that we have been able to develop some really cool innovative new features we are about to add into some of our sock range. We are really creating products for MTB and road. We will really push aggressively over the short term into the fashion side for these areas now we have got the functionality dialled. Then continue to merge building our brand from both sides innovation and fashion.
Christopher Jones: With your JetBlack history, can you automatically use this existing distribution in Australia and internationally or was is necessary to establish a completely independent network? 
Trent Fitzgibbins: I have been very blessed as the international take up from our previous dealers has been great so far we have distribution already in Italy, Spain, France, Portugal, Thailand, NZ, China, Dubai, Taiwan and of course Australia. We are also now in the final process of deciding who we will appoint in the USA along with at least 10 other countries which is exciting for us as I only completed my tIme at JetBlack in November.
Christopher Jones: Will you be retailing online yourself or encouraging your distributers and retailers to retail online? 
Trent Fitzgibbins: As we know the world has certainly changed and changing fast in respect to selling on line. People in general these days are very time poor and are always looking at how they can save time and purchasing online is one of those simple ways to achieve that goal I believe.
It is also the fastest growing sales channel and for any brand or retailer, not to be selling online is crazy. We need to make it easy for our customers to purchase our products and this is another way of providing good customer service. A good online presence with the right assets applied can give your customer all the proper information to enable them to make an informed buying decision about your product.
M2O products are available from bike shops and online retailers. You can find out more about the brand and products online: m2oindustries.com
Disclosure: Articles and reviews on Bicycles Network Australia are independent of advertising, this is not a paid or required article though some brands advertise on this website at the same time content on their brands or products is published.