Photo Gallery: Berlin Bike Show – The Hottest Cycling Gear and Bikes from Europe
The Berlin Bike Show (Fahrradschau Berlin) has established itself as a launchpad for new bike products and platform for brands who are offside the mainstream. This fits well with the culture of Berlin where people, and particularly passionate bike riders love to identify with cycling sub-cultures and brands that re-enforce their own individuality.
On the back of a penetrating winter, wet snow slush welcomed me to the city where a thick jacket, gloves and hat were mandatory for the tail-end of winter. Bike sharing is in full swing and on almost every corner are dozens of waiting bikes from up to five different bike share schemes. But car sharing and scooter sharing is growing and together with the excellent public transport, car ownership is hardly necessary. Considering the rapid growth and influx of people, you could be inclined to think you were in a regional town if you were just looking at the motor vehicle traffic, it is a city where transport works.
I was surprised to spot high numbers of fixie riders; the die-hard riders who will readily profess their bike-love to the world with tattoos, the bearded hipsters and the students. But there are also growing numbers of 'serious' bike commuters, they wear helmets and have all the gear for all-weather riding. These two groups represent the majority of visitors to the Berlin Bike Show along with the classic and vintage road bike enthusiasts and e-bikers.
German brands dominate the show but you will also see other young brands from Italy, France, Belgium, Spain, Scandinavia, the Czech Republic and the UK.
The Australian Hard-Sell
As an Australian visitor to the show, there is always a strong interest from exhibitors in the land Down Under however administration and distribution is a hurdle so most brands instead first turn to the large North American market for their first steps beyond Europe.
Many hope to find the right passionate and dedicated distributer but are always curious about the most effective way to reach Australian customers. When their niche products already commands a premium retail price Europe, the Australian retail price can make their products unobtainable when transport, duty, tax, currency exchange fluctuations and the mark-ups are added. Online retail is the most promising approach for many young brands as Australian consumers are fairly confident purchasing online, this keeps the pricing accessible and administration low enough until they generate enough market visibility and volume for the distributors to taken them on board.
Australian brand Knog had a small display on the stand of their German distributer Cosmic Sports and Darren Baums brand Baum Cycles was listed as a an exhibitor, there was a bike but over two days I didn't spot anyone in attendance. Another Australian brand was also represented, Reid Cycles under the billboard Loris Cycles.
The photos from the bike show include bikes and cycling products from new-comers and familiar brands along with brief details.
Bike Technology
Tom Schiller from Holland wants to bring cost effective bike frame manufacture back to Europe. The cold stamped aluminium frame of the Mokumono and arc welding can achieve this. Currently at €1,425 (ca. $2.285 AUD) with a Gates Carbon belt drive, the bike has excelled in all stress tests and once production quantities hit 1000 units, this will mark the turning point for cost effective and viable European production.
The Strange Workshop is the translated name of Italian custom frame and parts builders La Strana Officina. But it is not strange so much as fascinating… even revolutionary. But functionality and beauty is re-thought, from completely custom pedals, CNC machined forks and brakes which can be applied from any angle. Pictured is Andrea (R&D) and Marco (Engineer).
Frenchman Sahabi Arouna is a physicist who has created the Velopedart bicycle which is tensioned with cables similar to the classic Pedersen. However the cables run from the bottom bracket to the top tube, down to the headset and across to the seat post. The pedalling movement of the rider converts to a beautifully comfortable (slight) forward / backwards movement.
Tobias Kruschhausen has a new compact bike solution with his Kruschhausen brand. The aluminium frame can be broken and stored compactly. As a full-sized bike with a Gates Carbon belt drive, it offers the benefits of a regular bike but can be easily transported or broken down for compact storage. The brush aluminium and black colour scheme is a real eye catcher and is currently available in a crowdfunding campaign (€40.000 / $65,000 AUD goal) and this finely crafted bike is available in this black-white edition for €2.750 ($4,400 AUD).
With their cheeky marketing, Austrian brand Spengle have full carbon wheel that reminds me of the classic Aerospoke and Trispoke, but are calling their MTB wheels with curved struts the best wheels in the world. Of course they have to market aggressively and these are real eye-catchers. They sell just the wheelset for €1.490 ($2,390 AUD) but recommend the 'ready to ride' which come with tubeless tyres, disc brakes and the rear cassette for €1.790 ($2,870 AUD). But there is a wait and current orders are first being fulfilled in June this year.
A complete cargo bike for 10 kilograms? Not just the frame, but the complete bike. compoScience call the black model the Manic and it is a beautifully constructed and finished carbon fiber frame tricked out with the lightest components such as Tune hubs and carbon fiber wheels. This provides some limitations to heavy transportation but at ca €10.000 ($16,000 AUD) it is designed for an exclusive audience. The dark green Sane model (which I am sitting on) has more durable wheels and internally geared hub.
Pascal Wagner operates a Berlin bike brand called Konstructive which incorporates the well known Berlin Bear in their brand. They have been around for about five years and have a range of striking carbon fiber bikes for MTBs, road and gravel.
The young German ebike motor brand Fazua is making waves after a significant investment and move to new production facilities in Munich. Lars Verstaen holds the battery and motor unit (left) with the cover plate (right) on the concept bike (which is reflective). Fazua were also on Maserati concept bikes and are going into production for both Pinarello and Focus. Focus are releasing the Project Y road bike with Fazua while the Raven eMTB is already available.
Festka continue to attract all of the right type of attention for their fully customised road bikes. Their entire carbon fibre production, right through to the carbon fibre weave is done in their production facilities locally for the Czech brand. Founder Michael Moureček (middle) is pragmatic and the design will always reflect the client wishes, but the surface design is second to the frame quality and performance.
From Heidelberg in Germany, Coboc have their own brand ebike hub motor to power the Coboc One bikes which have a slim line single-speed look. The battery unit can be accessed and removed from under the bottom bracket. The integrated LED status on the frame and fine details lend a good impression.
8bar are a fixie type brand and this urban bike for street racing with matching Brooks cambium saddle is an eyecatcher.
Vigmos titanium Time Trial bike by Leipziger frame builder Danny Roehr eliminates the derailleur and instead used the Pinion gears integrated into the bottom bracket. The rainbow effect comes from anodising. Without the traditional front and rear derailleur, frame builder Roehr claims an aerodynamic advantage.
Relaxed, Kyle Gouveia is the European marketing manager for Reid Cycles. Their affordable range of women's bikes are now hitting markets and seeking reach buyers in the affordable segment.
Cycling Wear and Fashion
Toon Claessens from Belgium runs the cycling wear brand the Vandal which covers retro and urban cycling wear. The real highlights are the jumpsuits for babies. Claessens reminds me that the brand well known from Eddy Merckx (The Cannibal) racing in the 70's, Molteni is a sausage brand. For this reason and for the style and class, the orange Molteni jumpsuit is a must-have. the Vandal also has t-shirts and jumpers is clever and cheeky messages.
The Danish brand Pas Normal Studios started as group of cycling friends who decided to make cycling kit for their group rides. They are now internationally established as road cyclists search for style, but Sune Nicolaisen says it is also the comfort and performance which has helped them gain a cult following. Rather than loud, Pas Normal Studios set themself apart with a minimalist approach.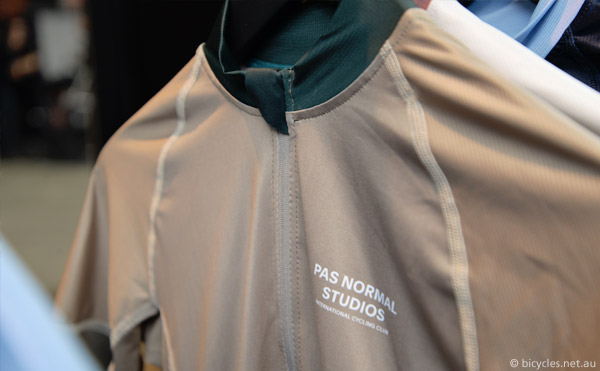 The Japanese PEdAL ED label enjoy a healthy European following and the attention to the finer details makes it a brand you could overlook on a glance, but when you start to notice the details, it draws you in. This brands searches only a select number of retailers who match the brand, an approach that Germans would describe as klein aber fein which means small but high quality. The socks have a reflective print which the photo (below) represents as white, in normal light is is not noticeable.
The cowboy association is unmistakable, Semjon Bakroew knows leather and found the run-of-the-mill leg bands for commuters frivolous and easy to loose. You wont loose the Ketten Cowboy (ketten is German for 'chain') and this leg guard also sets you apart by fusing fashion and functionality.
Amity Fashion position themselves in the top end of urban cyclewear and have a five styles of multi-functional jackets. The women's version of their newest model, the Carl is pictured and this jacket has a hoody and is an all weather community jacket which was design to suit younger urbanites. The Josef jacket (which I am wearing) is a smart and tailored jacket which has reflective material under the collars and cuffs which can be folded out. It is formal enough for business and practical enough for cycle commuting.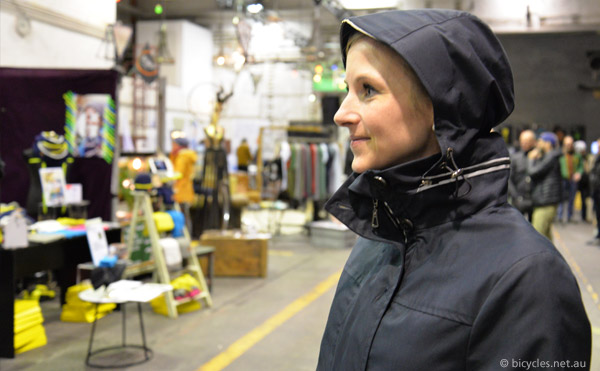 The fashion brand Alberto made cycling pants for a number of years and their trademark is the reflective bicycle symbol on the leg cuffs of their jeans and pants. The have a plethora of colours and styles and the material and stitching for on and off the bike.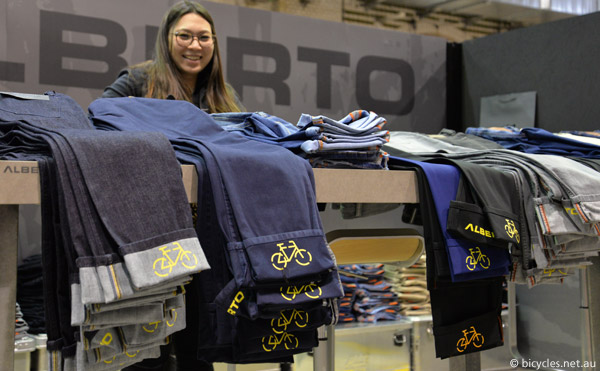 The edgy Italian brand Bike Inside doesn't shy from bold graphics and statements. Founder Andrea Franzini holds up his illusions cycling jersey and I have one of his cycling caps which is named Tattoo and let's everyone know 'where you are at'.
The fi'zi:k RB1's are the newest road cycling shoe in the range and are simply stunning. Available in a few colours, two boa dials combined for a unique lacing function to adjust the fit differently along the shoe. Many of slender Italian shoes shows don't accommodate my broader feet though these appear to be the best of both worlds, and let me feet fit/ comfortably into a slim style shoe. For €350 (ca. $560 AUD), your hip pocket won't thank you but your feet and eyes will.
Intermission – Coolness from Berlin
Ilcarbonauta is the identity of Italian designer and artist Alberto Spada who was contracted to create an artist bike he calls the Max Vix bike. Inspired by Mel Gibson's Mad Max and Kevin Costner's Waterworld a costume accompanies the bike that includes details like a skull, spikes faux guns and weathering.
This is D, a real Berlin who has spent years building up his lowrider. He likes gold and there is also a photo of his helmet which is an old East German firemans helmet… but completely upgraded to match his style. Nice guy!
Some of the straight and narrow German bike enthusiasts would look at the frame noticing it is a sought-after Bauer. This artwork attract gleeful children who would start ringing the bells. I wondered if the missing tyres, seat post and saddle had any significance.
On a blue bike packing touring bike from Fern, I spotted this quaint little rearview mirror I asked the guy to repeat the brand name twice. It was a French brand but I still didn't understand him. Most rear vision mirrors are naturally dorky, but this one is nice… you just have to find it.
Remember that nasty crash in the Tour de France where a thoughtless team car driver knocked Johnny Hoogerland of the bike where he then tumbled into a barbed wire fence and sustained nasty injuries but still completed the stage? This is a close-up of the bike which was in remarkable condition. At the Berlin Bike Show, an enthusiasts groups displayed the bikes of current and ex-professional road riders.
As usual, the Berlin Bike Polo club hosted matches for the duration of the show, always nice to catch up with some of my old team mates and be dazzled ay how much the sport has progressed and the level of skill required to be competitive.
Bike Gear and helmets
One of the most exciting exhibitors at the show were btp Bartape. There were probably about 100 different styles of tape on show and they mentioned that they have 600 styles which is insane for a young company. Tom Williams is holding the bars with two different camouflage reflective tapes on the left and silicon studded tape on the right. It is early days so I found some of the tape too grippy, or not grippy enough. There were a lot of great designs to let cyclists match their bike and style plus a lot of Indian and Middle-Eastern patterns (like carpets) which were unique.
It has a carbon fiber shell, an advanced memory foam, it is nostalgic and every smart women on a commuter or recreation bike will want one. The inventor of the Dashel helmet is English women Catherine Bedford, who you could describe as an entrepreneur. For interested Australians, the catch is that it is only approved for the European market and before it can be sold legally in Australia needs to have Standards Approval. At the moment, the priority is Europe though interested importers should get in touch.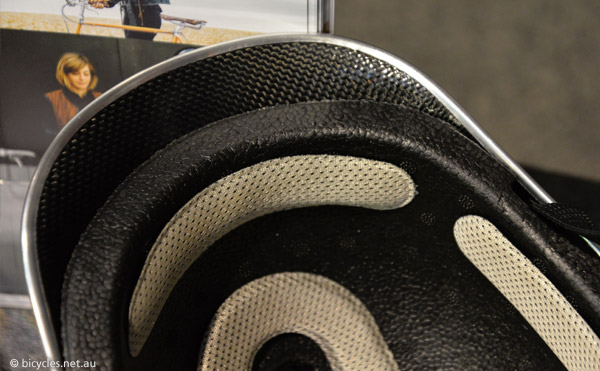 A slightly abstract photo was captures through special googles that along the reflective stickers to reveal their light refraction and the wonderful serious of patterns for the Happarel Bicycles Reflective Bike kit. Antoine Capeyron looks after the design and bike riders can upgrade their bike with small stickers with nice graphics or go for a complete bike kit. Instructions providing cutting advice and the end results are fairly stunning. Some of the stickers are invisible in normal light so are hardly noticed and the patterns are first revealed under reflective light.
The handmade leather winebottle holder is understated but elegant and a cheeky or even practical gift for the bike rider cum wine lover. But if you look closely, you will also see a custom made fender and Joeri of Odin Wood Design specialises in speciality wooden parts such as fenders, but also upgrades for foldable Brompton bikes as an example.
Fidlock are a a German brand who supply magnetic locking systems and they have two bike products, a waterbottle and, in my view, the more interesting saddle bag. It attaches almost from along but locks tight. This model is waterproof and sturdy so could work well for MTB and Audax or big trips where you need a bit more space. I would like to see a more compact version for road cycling that is designed just for the bare essentials.
The Berlin brand Fahrer is unique in that it creates a range of small accessories such as leg straps and bags but also manufacturers in Berlin and not offshore. The rely on a disabled workforce and this is an integral part of the business – social responsibility in support people who may otherwise struggle to get work. Their priorities in this respect also mean that they are fairly relaxed so even with growing demand, they can deliver their products to retailers and customers when they have been made, but there is no rush. The photo shows a nice strap to transport a soccer ball (and I am sure it would fit a footy as well).
The island bicycle helmets from Brooks are no longer new, but this pair caught my eye with their sleek designs and urban styling.
The well known Brompton foldable bike brand presented another foldable product which also tries to inject the idea of folding and compactness into the Closca Fusa helmet. It contains the styrofoam inside and can be collapsed to make it easier to transport or store. I havn't spotted these in Australia – like most helmets, the cost and energy of the separate Australian standards approvals (not to mentioned there are a number of different international helmet standards) make it hard and slower to introduce helmets.
Alba Optics are another Italian brand and are interesting for two reasons. Firstly they are on top of the current cycling sunglasses trend of retro inspired but still modern eyewear. The other is that they sponsor the Sydney Uni Staminade women's cycling team. Under the covers they also have a distortion free lens which is not an assumption for all brands, but important for clarity and comfort.
This wraps up the coverage of Fahrradschau Berlin for 2018. If you enjoyed the photos, write a comment and share your favourites.
One response to "Photo Gallery: Berlin Bike Show – The Hottest Cycling Gear and Bikes from Europe"