Review: The Elegant and Practical Zilfer Phone Wallet is Ready to Ride
Picture this, you arrive at the cafe with your cycling buddies after a nice ride and park your shiny bikes outside. It's your shout for coffee and to pay, you reach into your jersey pocket and fish out a crumpled ziplock bag and extract the crumpled notes and loose coins. Because you are decked out in your flash cycling gear and everything else about you oozes performance, this is not a good look. Carry cash and essentials tends to be an afterthought or inconvenience for many cyclists but a new Australian brand has released their first product that can change all of this.
Zilfer can help you save-face with their stylish and downright practical phone wallet. In reality, this is a multi-sport phone wallet however it suits road cyclists particularly well.
Imagine a wallet that you can use everyday and when it is time to ride, you simply put the same wallet in your jersey pocket and away you go. There is no shuffling of cash, cards and mobile phones into waterproof pouches; you don't even have to think about it. The practicality and convenience is the compelling advantage of the Zilfer phone wallet – you can use it all the time and it fits nicely into the jersey pocket.
Quality at a price
The old adage goes "you get what you pay for" and I find that this is a fairly good guideline except that in the last two decades the 'Australia Tax' has crept into society, a lot of products and services are now overpriced. Too often I question the real value of a product or service. The good news is that the Zilfer Wallet costs $49.95 [see update], which I rate as an extremely good price for the quality and functionality. In contrast, my durable Oroton everyday men's wallet cost for four times the price and it was a price I was prepared to pay because there are too many mediocre wallets which fall apart far too soon.
Correction 15.04.2018 : The Australian price is AUD $69.95 and the US (International) price is USD $49.95. For Australians, the extra $20 means that it may no longer be an 'absolute bargain' though I still rate it as a good value.   
Beyond the good looks, the Zilfer wallet feels durable and uses heat welding instead of stitching. There is elegance in the simplicity that it just accommodates some coins, notes, a few cards and your phone. If you love to carry around dozens of cards and collect all of your receipts, then the Zilfer will put these habits to the test as this wallet demands a more minimalist approach. Only the $1000 notes and titanium credit cards if you please Mr Bond!
In Practice
The material used is labelled durable and water-resistant and creates a snug fit for standard sized smart phones. For everyday cycling, it is a good storage option for my iPhone 6s… but this model iPhone is not waterproof. While the wallet provides water-resistance, if it really starts to rain then I have a problem. For this reason, the Zilfer wallet is more suitable for cyclists with waterproof smart phones. In my case, I have to consider the weather and when in doubt, need to resort to a waterproof pouch for the smart phone.
As a long and thin wallet, the Zilfer it fits easily into the jersey pocket. Depending on the depth of the pockets, it may poke out slightly at the top however this was never cause for concern while riding as the textured material used in the wallet prevents it from slipping and sliding. While road cycling and commuting I had no concerns though for mountain biking I would opt for a more secure storage option such as a jersey pocket with zipper.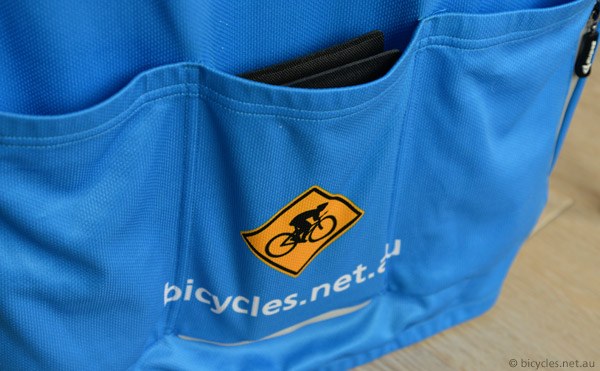 While riding, the wallet sits nice and flat so is very comfortable though you may notice a little perspiration build-up. I also trialled cycling jackets and gilets as the top layer with the Zilfer phone wallet inside one of the cycling jersey pockets and, as expected, had no issues.
For everyday use beyond the bike, the long and thin form of the Zilfer phone wallet had some limitations for me. In my front jeans pocket, the wallet is tall and can poke out the top of the pocket. I couldn't comfortably sit down with the wallet in my pocket, that said, I usually take out the smart phone from my jeans pocket anyway before sitting down. This style of wallet is better suited to the inside lapel pocket of a jacket.
Men who like the rectangle style wallets may not yet discover the perfect all-rounder with the Zilfer phone wallet – but I think that even if it is used just as a phone case and wallet while cycling, it is a practical, elegant and affordable solution.
I should point out that this is not a men's specified wallet, indeed the long, thin format can be appealing for women though it has more limited space than a traditional women's purse.
In Summary
The Zilfer is a classy smart phone wallet that easily fits into a suave lifestyle and doubles as a practical phone wallet for cycling. Riders without waterproof smart phones and those who prefer traditional 'rectangle' wallets won't benefit from the all-rounder advantage though the quality construction and attractive price of $49.95 make the Zilfer phone wallet hard to resist.
As my smart phone isn't waterproof and because I like to carry the wallet for everyday use in my front jeans pocket, the Zilfer phone wallet is not 100% perfectly suited to me – but it so nice that I am prepared to swap wallets and use it when I can.
I am hoping to see a few more models and variations in future and with the same quality and pricing of the Zilfer phone wallet.
Details and purchase online: zilfer.com