Wearable Tech Review: Métier Beacon Cycling Gilet with Integrated Lights
Cycling technology is blossoming and although you can now electrify your bike, record all manner of data and accessorise with lights, cameras, maps and even radars, the realm of wearable technology for bike riders has remained virtually untouched. The young English brand Métier is tapping into the market of wearable cycling tech with their 'Beacon' collection which includes a men's and women's gilet and a long sleeve cycling jersey, both incorporate lighting for front and rear visibility.
The idea of integrating lights into cyclewear has been done before though it is usually cheap and nasty or it comes in the form of a fluro coloured rain jacket. Mértier however capture attention by integrating the lighting exceptionally well and making their cycling wear fashionable and functional.
Simple, but not basic
Integrating electronics into cyclewear attracts a unique set of challenges that stand-alone (bike mounted) lights or electronic devices don't need to address. Wearable tech needs a wearable power source plus the electronics have to survive the washing machine, which introduces a lot of water and the potential for damage.
The team behind Métier bring in the necessary skills. Paul Molyneux has a history of leadership roles with household consumer electronics brands, Chris Carr is experienced in clothing manufacture and they are joined by designer Tristan Gilby. As the Sharp UK Managing Director, Molyneux was also heavily engaged in the sponsorship of the UCI-Continental cycling team Rapha Condor-Sharp and also counts the RAAM (Race Across America) among his accomplishments.
Wearable Power and Washable Tech
Both the black Mértier Beacon gilet and cycling jacket incorporate 6 white LEDs on the front and 5 red LEDs on the rear. Seamless internal wiring all leads to a port (connector) inside a rear zippered pocket. Connect the bright orange battery unit with a rugged rubber surface and you are ready to ride. Each time you press the battery unit and the front and rear lights cycle through three modes, flashing, fast flashing and steady.
As with any battery powered lights, flashing modes provide a far longer run-time between charges with up to 72 hours operating time for flashing specified or 12 hours operating time for steady.
At the end of a ride when you are ready to put your sweaty cycling gear in the wash, the process is straightforward. Remove the battery unit, do-up all zippers of the Beacon, use the provided washing bag and choose an appropriate washing cycling with max 30 degrees C and 800rpm spin. Métier also provide a small sample of washing liquid and encourage you to consider their product or you can choose an appropriate quality liquid that is gentle.
While washing, recharge the battery unit using the supplied USB charging cable and after everything is dry, you are ready to roll again.
It is not complicated and the Mértier battery unit and the Beacon garment are very well constructed without the awkwardness or 'hobby electronics' feel. I will however criticise the connecting cable inside the jacket as it feels rather fragile and the zippered pocket for the battery is too large.
After the first wash, I noticed that the internal ribbon cable, which feeds inside the jacket along the spine, was twisted. Despite following the washing instructions exactly and ensuring it was neatly folded in the washing bag, I think the issue is that the cable is 5mm wide but the channel is just over 30mm which allows too much room. I could carefully straighten the ribbon cable and when it is seated correctly it is virtually invisible – but this certainly something to improve upon. Because of this, I folded the jacket differently on following washes and that seems to work to avoid the cable twisting.
The Biometric Advantage
When I first saw the Métier jacket on Instagram, it reminded me of a host of sci-fi films where characters are enhances with wearable lighting. The Mértier gilet that I have for review delivers a futuristic appearance and as the body moves while cycling the incorporated lighting is a new visual impulse.
The Biometric advantage is when others recognising the human form both though the natural movement and positioning of the lights. The theory is that drivers will take more care when the consciously or subconsciously recognise another human.
This concept makes sense although I can't effectively test and evaluate this. Although I usually run bike lights on the road bike (no matter how uncool it may be for others), I was able to gather in a few interested looks and positive comments from other riders. The verdict is that it is cool so there is no need to call the fashion police… though maybe the blue BNA cycling jersey was not the best combination.
As a practical observation, having easy access to more visibility through lighting is always a plus. On a recent ride through winding hills my rear red light turned off but I didn't notice until the end. In the meantime, I was covered by the Mértier gilet.
Light up my life
The front white LEDs are listed as 160 lumens UHI (Ultra High Intensity) and the rear lights are 22 lumens UHB (Ultra High Brightness). Unless you look down at your jacket while riding, you don't notice the front lights, this is an advantages as lights are a distraction when they are directly in your field of view or peripheral vision. At night, the front light can reflect off shiny bits on your bike so it then becomes obvious that you have the lights on however I still didn't find it distracting. They create the interesting effect of illuminating your face that lends you quite a curious appearance to oncoming traffic.
If you need to illuminate the road ahead, a higher-powered dedicated light is necessary, as the Beacon is not designed for this.
Style and Details
Although Métier are a British company, it sounds French. The word métier has French origins and in English can describe a person's skill and talent in their profession, "she found her métier as an engineer".
Presented in 'all black', the safety advocates will scream and demand fluro and other bright colours instead. But this gilet (or long sleeve jersey) is not for those people, besides, it is also fairly well documented that bright yellow does not automatically make a rider more visible in traffic.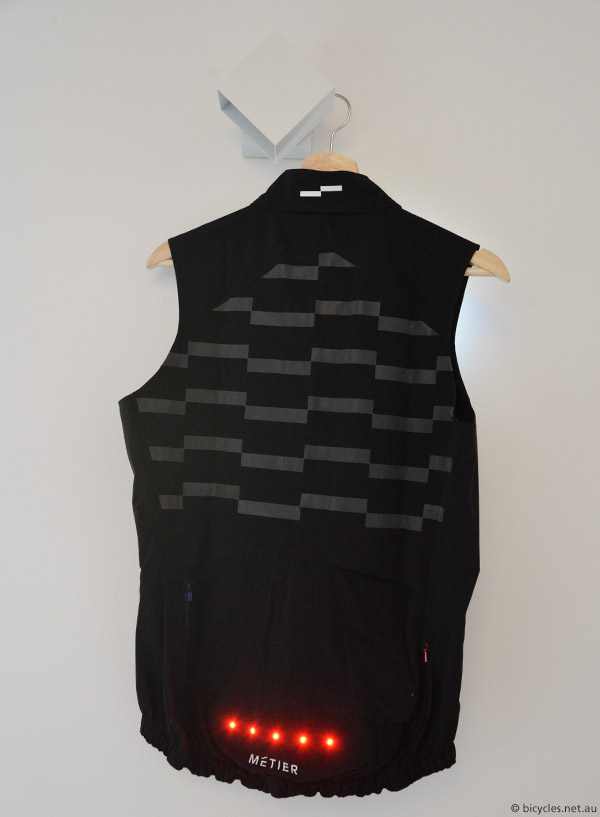 This cyclewear doesn't turn you into a ninja – the lights and generous reflective patterning which matches the graphic design of the brand mean you are still visible… but stylish. A lot of riders will appreciate the styling, the dark gilet and jersey easily matches all of your other cycling kit and accessories.
The back of the gilet is constructed to allow for breathability while the front provides better wind protection. Regardless of the temperature, I still recommend a base layer as the thin material doesn't provide warmth and isn't a replacement for a cycling jacket. While it has limitations in cold weather, the strength is that the gilet is a fairly good companion in variable conditions, you can cycle up a hill without overheating and sprint down the other side with enough wind protection for your torso.
I like collars in cycling jackets and vests and the one on the Métier is 5cm, just the right height, and lines with a nice material for comfort. Only for cold temperatures do I need to resort to the extra neck warmer (buff). While washing I noticed that the material attempts to deflect water. When it was dry I put the cycling vest under a tap and the water pearled off immediately, it will give you a good chance to keep your core dry.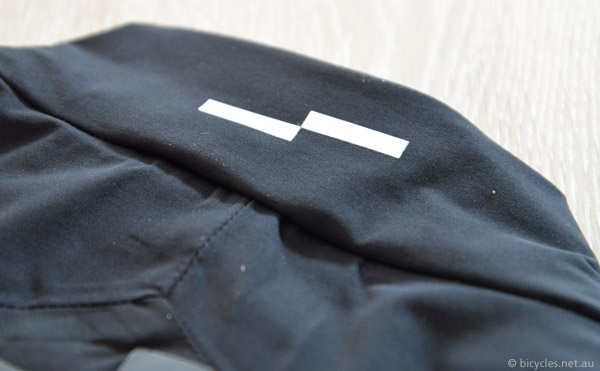 The overall construction and quality is top-notch. Very clean and small stitching. There are no internal seams as it is completely lined. The gilet has the right type of quality zippers on the front and for a rear pocket. The bottom hem also has a silicon gripper that and elastic.
Sizing
I usually take a large size cycling jersey and jacket and this let's me enjoy a close fit without being obscenely tight and scaring the old ladies. The Métier was also a size L however I found it was tighter that much of my 'race fit' size L cyclewear, very much the body hugging performance fit with a much shorter lengths in the front and rear. It was a good fit in riding position and only around the arm holes did I get occasional pinching and discomfort though I tend towards swimmers shoulders so am a bit bigger than average.
The 'race' fit will make it harder for generously proportioned men and women to wear it well so if you are uncertain or want a bit more comfort, up-size.
In Summary
Keep in mind that the jacket is tight, once you have the right size I feel that a lot of riders will be pleased with the look and quality of the Métier gilet. This practical and 'safe' cycling top fits right into polished look of the contemporary road cyclist.
As the debut product of Métier, they have almost kicked a golden goal (or hit a six, or got a home run) and it is only the twisting cable while washing where I see room to improve. The Beacon gilet retails for £180 which is about $330 AUD and the jacket is £250 which is $455 AUD. Shipping is free which good news but it is fair say that you will still belong to a fairly exclusive group who are making the first steps into elegant wearable cycling tech.
More information and purchasing: metiercycling.com
2 responses to "Wearable Tech Review: Métier Beacon Cycling Gilet with Integrated Lights"