Smoove Lube – chain lube to outlast them all?
"Can you recommend me a chain lube?" is a question that I hear asked often. The replies can be passionate, "This is the best lube that I've used", "I swear by it" and "My chain lasts twice as long". This then leads into long discussions on the pro's and cons of each brand and product because lube is not just lube.
My take is that for almost every chain lube there are indeed pros & cons and it really depends on your own requirements. But this ay not help you if you discovering Smoove lube for the first time and really want to know if it is any good… so will share my experience so you have much more to judge for yourself.
Why Smoove?
You probably already know there is a lot of chain lube on the market. The idea behind Smoove was to create the longest lasting lube. It was born in "..dusty, wild, real creek and river crossings, huge rain and mud" of South Africa. This is home of the Cape Epic which carries an international reputation among mountain bikes as one of the sports most extreme and gruelling races. If you look closely at the race, you may discover that most of the top 10 finishing teams rely Smoove so this already gives you a few hints about the capabilities.
Australian importer Pat Howard of Leadout Sports confirms that the development included two years of 'continuous blind field development' involving numerous riders in order to create a lube that would last the distance across dusty plains, muddy fields and multiple river crossings.
Time to put Smoove to the test!
As a road cyclist my testing is not nearly as aggressive as a mountain biker who face sand, dirt and mud. But I still get a fair share of road grime and get wet weather riding so know the benefit of cleaning and lubing the chain after each ride.
Smoove is a wax-emulsion type lube so in order for it to work, the grease in the chain assembly needs to be removed first so that the fresh lube can adhere properly to the chain surfaces, otherwise it doesn't stick and doesn't work. Once the bicycle chain is completely cleaned and dried, it's time to apply Smoove as per the great instructional video. The initial trial that I did was on an existing chain already on the bike that had completed about 2,700km, so it was well run in.  I thoroughly cleaned the chain, re-installed and then lubed as per the instructions.
It's the first set of instructions I've seen that clearly articulate the process of apply plenty of lube and be prepared for some excess to be cleaned up. (I've seen a recent test that one lube stated that 12 drops, yes, only 12 drops is sufficient so you have to wonder on a chain of over 100 links, how 12 drops is sufficient?)  Exercising the chain through the full range of the cassette then also allows the lube to be fully worked throughout the links and side plates of the chain, before you let it dry overnight.
The instructions are clear and I found that the application and 'working' the lube into the chain quite straight forward. Approximately 540km & almost 6,000m of ascent later (over the course of 3 weeks) and still on the initial application. I then put Smoove through a torture test.  The next 60km were through plenty of rain and roads that had been building up all sorts of rubbish (it had been a very dry year to date). The chain copped plenty of water and road grime with direct spray from the front wheel.  I was waiting after each ride to hear the chain start to protest because the Smoove had been washed out, but there was no sign of this whatsoever. Just out of sheer nervousness, I applied more lube to be sure and rode on for another mostly dry 220km.

Ready for relubing
Time for a new chain & test again
So, it worked well on an old chain (3 weeks and 600km between lubes), so what is it like on a new chain and a new cassette?  I must admit, that taking a brand new chain and washing out the factory applied lubrication is something that goes against every bit of advice I've seen in the past. In for a penny, in for a pound as they say !
I followed the same instructions as before and applied the lube successfully, worked the chain up & down the cassette, and waited overnight for it to dry before starting the next phase.  When dry, Smoove loses the white colour and turns into a dull off white between the links.

New chain and cassette coated with dried Smoove lube
After another 500km and 5000m of ascent later, I could tell the chain was just starting to become slightly noisy, hinting that it was getting a bit dry.  When looking at the chain, it was obvious that there was still plenty residual lubrication in the system through a visible coating on the cassette and the chain.  There wasn't an obvious build-up of road grime that I was expecting, so it seemed appropriate for a clean and re-application.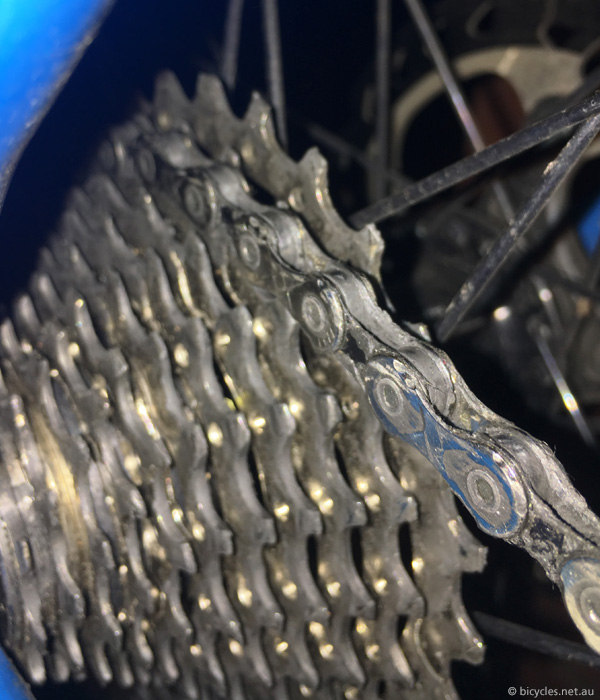 Ready to relube the (new) chain
Pat from Leadout Sports suggested that a simple wipe down and re-apply was all that was necessary, "… wash of with some soapy water and light brush every so often, let it dry, and then just re-apply and leave it overnight". The proviso with this is that Smoove must go on to a "genuinely clean and dry chain in the first instance".
Because of the obvious presence of the Smoove that was still there from the initial application, I just gave the chain a wipe down and re-applied Smoove as I had done previously. As a wax based lube, it needs a bit more work than your more common lubes to prep for the next lube application.
So, what's it like?
Importer Pat Howard highlights that the prime goal of Smoove was to create "the longest lasting lube". It's telling, that in a completely separate test done by David Rome of CyclingTips who were searching for a fast chain lube that saves you money, Smoove outperformed 8 other lubricants. I will add that the review focussed more on wear rate rather just low friction alone. Some of the contenders were much more expensive and in respect of a low wear rate, they were only outdone by a waxed chain. It should be noted, that apart from the long lasting lube that Smoove set out to be, I found it to be a very simple lube to live with; it's easy to clean for lube top-ups, as well as easy to apply full-stop.
In my direct experience, I found Smoove just as easy to apply as other lubes I have used in the past (both wet and dry), although it was a change in habit to apply as much as the installation video suggested… at the same time this proceedure made sense. For a lube to be fully effective, it has to be fully integrated into the chain and links. Applying what appears to be quite a bit of Smoove doesn't mean the bottle will not last as long, the time between reapplications is longer, I get double the distance on a single application and a re-applications uses less lube than the initial 'complete' lube.
A real difference that I noted with Smoove, was how clean the chain remained even after a few weeks.  Yes it was dull looking (a fine layer of dried Smoove), and there was some grime on there, but nowhere near as much as the thicker and oily lubes tend to attract during the same timeframe. Although you don't get a shiny drivetrain, at the same time, the road grime, dust and detritus isn't attracted to the chain as much. And it is that grime which typically works its way the links and side plates reducing the life of the chain and associated components. If you follow the instructions and let it dry, you also don't get the splash-off of lube onto your rims.
On the flip side, I noticed that there can be a build-up of 'excess' lube if you apply too much, typically on the jockey wheels or in the cassette teeth.  So it's not a perfect lube but this build-up is really just cosmetic and much better than grime.
Wet weather gem
The surprising outcome of the trial with the Smoove was the performance during those wet rides. It just lasted, despite my best efforts to wash it out of the chain by seeking the puddles!
Dry lubes that I used in the past typically would reliably wash out during a ride and the growing noises coming from the drivetrain are almost worse than cycling in sodden wet shoes with cold feet. With the Smoove, I just had to put up with the wet feet. After each wet ride, I was expecting to hear that dry screeching from the chain as it cried out in agony at the grit.  It just didn't happen with Smoove. This for me was the standout performance factor and even though I am not bashing through the dusty and muddy stretches of the Cape Epic, my roadbike loves me for this.
It's a wrap
Now when I'm asked "Can you recommend me a chain lube?", you can imagine that I will deliver a very positive appraisal of Smoove. There are brands that work well most of the time, but if you're a time-crunched cyclist, the maintenance and upkeep of your bike can begin to suffer. The combination of the longer lasting nature of Smoove between re-lubrication as well as the ability to stay pretty clean (and noiseless and efficient) is a huge win for me. My experience is enough for me to put Smoove at the top of my list and change my practices.
Added to this the performance of Smoove in wet conditions which is a HUGE bonus. I don't usually seek the rain and wet weather when I ride, but not having to even think about the chain lube washing out partway during the ride and grinding gears is the biggest bonus.
With the performance and lasting properties of Smoove, you would expect that this has an epic shelf price to match the performance. Sorry to disappoint you, but it doesn't.
The RRP is $25 per bottle for 120ml from bike shops. For more information and dealers, visit: www.leadoutsports.com
One response to "Smoove Lube – chain lube to outlast them all?"