Lighten Up: dhb Aeron LAB Ultralight Cycling Kit in Review
Published: 21 August 2018
You know the classic line, "It's not you, it's me"? It is quite telling when describing my relationship with new dhb Aeron ultralight kit and you probably want to know why. As the in-house cycle-wear brand from online retailer Wiggle, dhb made their mark with attractive prices and fair quality. At the beginning it was not a flash brand, but you could get some sunnies, socks, knicks or a jersey which would do the job. They have since evolved, particularly in the last three years, and offer a bigger range which stretches from mid-range cycling gear through to boutique gear with boutique design, quality and price tag to match.
At the top end of the range, the Aeron range strives to serve cyclists who want a more than just stylish colours and design. This is where the performance attributes such as form fitting, breathability and lightweight are important. The dhb Aeron LAB is the top-of-the-line range and within this is the 'ultralight' series which comprises of the Aeron Ultralight Jersey, knicks and socks which are in review. The first ride revealed that this new kit has a lot of qualities but also a few things you should consider when deciding if it is right. It is time to delve deeper and explore the Aeron Ultralight cycling kit in detail.
The lighter side…
For the LAB ultralight Aeron kit, as you probably assume, this is a super lightweight kit. I never considered cycling gear to be particularly heavy… there were always other ways to make significant weight savings, but I still recognised how light the kit was when unpacking. Rather than the usual polyester/spandex weave, the cycling jersey comprises of three different mesh fabrics… the mesh was similar to some of the base layers I usually wear under a jersey which are designed to wick away sweat.
The bib knicks are more subtle and demonstrates its' 'Lightness' with the soft fabric and a very low cut front which I will discuss later. Finally, the cycling socks tie the package together and instead of a robust weave which you will see on many well constructed cycling socks or a spongy weave that is typical of cheaper socks, these are a little in-between.
I found the Aeron lab socks comfortable, the lightweight construction aides breathability and also gives me a bit more room inside my cycling shoes. The design has small rectangles of cyan (light blue) on the front so you can take take perfectly line up the before heading out. These details do get noticed by others.
Perhaps the minimisation in construction of these socks gives other brands of premium socks a small advantage in terms of comfort, particularly for longer distance cycling. But I didn't feel that this was a deficit for me, I have custom inserts in my cycling shoes (inner soles) and am more comfortable when I have a bit of space to breath.
I wonder if the fragile material will give me a reasonable lifespan. Direct out of the packet there were two loose threads… hardly noteworthy but still something that caught my eye because they are priced at $22.95 retail for 1 pair.
dhb Aeron Lab Ultralight Bib knicks
You may want to go up 1 size with the Aeron Lab Ultralight bib knicks, I will repeat this recommendation again for the jersey. I am usually a size L for cycling knicks and because there is a continuing trend towards race-fit cycle wear, the result is that the kit is not necessarily just form fitting, but the actual sizing is getting smaller in the process.
After measuring against the dhb size chart and double-checking, I was expecting the dhb Aeron ultra-light to be generous and sized for European (and Australian) bodies but it was a fairly small size L. Not only did I get the form fitting, but also a bit of compression ala Skins and 2XU. The XL bibs and jersey would have been a more natural fit for me (still delivering a form fitting race fit) but the good news was they were still completely comfortable while riding.
The most remarkable attribute of the bib knicks is that they are cut extremely low at the front. Almost low enough to challenge modesty. Most bib knicks cover your stomach and can even help hide a bulging belly and keep you packed nice and cleanly like the Adonis you should be. Because the Aeron ultralight jersey uses mesh fabrics which happen to be see-though, if you wear these bib knicks, everyone will know whether you are sporting a keg instead of a six pack.
Insecurities aside, I found that the chamois was fairly comfortable, a little bit of shifting on the seat but after a few rides and washes, they seem to be settling in very well. The chamois is from Elastic Interface, the Italian brand who supply top notch chamois for many other cyclewear brands. This chamois has three different density foams in a construction that dhb describes as being designed for comfortable long distance cycling. The chamois itself has a channel in the middle and is designed to pad the sit-bones so perfectly matches my riding preference for saddles with cut-aways that reduce pressure on the perineum.
I didn't wear base layers under the jersey and notice that the thin and soft braces remained comfortable and unnoticeable while riding. The cuffs of the knicks incorporate a gorgeous rippled material which grip your legs nicely and if you look on the underside of the cuffs, there are bronze coloured thread in the elastic which add an air of class.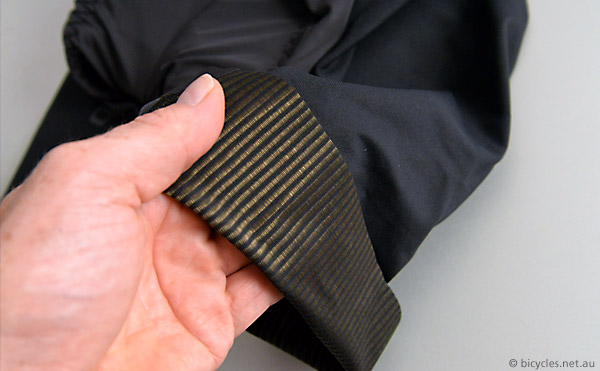 As a weight comparison, these were 147 grams (size L) on the scales while the BNA custom cyclewear (racefit) made by Cuore was 205 grams, about 50 grams more. At $186.95 regular pricing, these subtle black knicks can very easily be paired with other jerseys and cyclekit so you are not limited to just the dhb jerseys. At the rear, black on black is text LAB… very subtle but lends a touch of exclusivity.
dhb Aeron Lab Ultralight Jersey
The ultralight jersey is better described as an ultra-race fit, a level higher than a 'regular' race fit. It features a low collar and relatively short front and back but the designers still left room for the long sleeves which is popular for race jerseys. The fit is tight and the mesh is see-through so your pecs and abs need to be up to scratch if you care what others think (it is better not to care). While the cut of the jersey is minimalistic, the sizing of this race fit was small and in retrospect the XL would have been better fo me – if there is any doubt at all, size-up.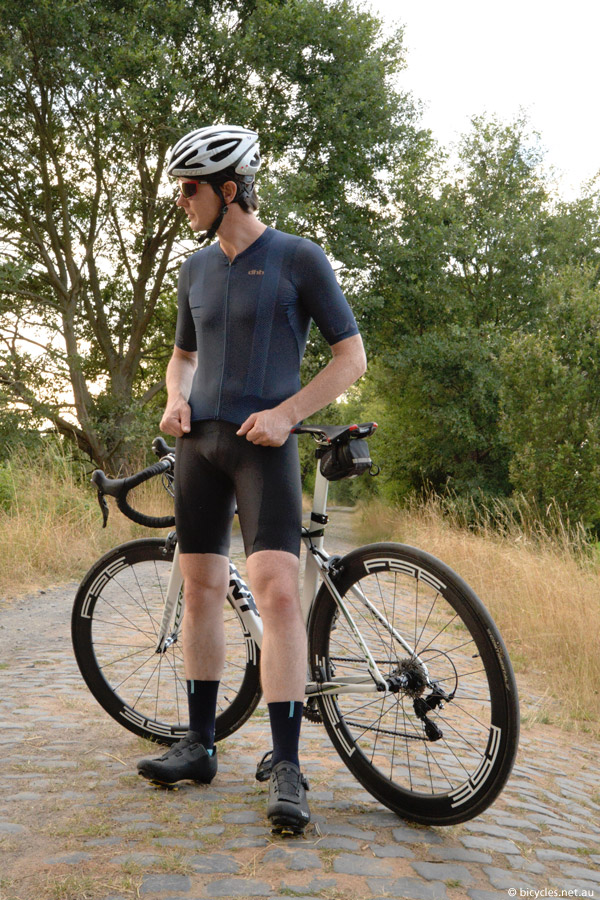 The weight is remarkable, 84 grams for the size L. Compared to the BNA custom jersey made by Cuore at 162 grams, the Ultralight is about 50% lighter. And you still get 3 proper pockets in the back some small black tabs on the rear which work as reflective elements at night. The zipper is compact but works reliably. The zipper itself includes a nice mechanism to help keep it pointed down which is a nice detail.
While riding, the jersey is a second skin and is barely noticeable which I believe is what the designers had in mind. There is no extra material to flap around or to bunch up. There are also no silicon grippers, but the jersey wasn't slipping either, the close fit helped it stay in place. Riding in the European summer with 35 degree days, the ultralight was spot-on. One concern prior to riding was that wind-chill could become a factor on fast descents through cooler forests though the mesh provided more wind-resistance than I expected. It won't save you if the weather is cold, but lends you some wind protection if you are descending and the temperature drops a few degrees.
While working up a sweat, the mesh allowed the wind to rapidly dissipate moisture while cycling. If you stop, just as your sunnies start to fog, the lack of wind will mean sweat can start to build up again until you begin pedalling again and the wind can play its part.
As a mesh style jersey, the weather conditions need to be warm and dry, it stays on the coat hanger in the cupboard when the weather is cool or wet.
When performance becomes the priority, the graphic design of cycling jerseys is usually toned down to a single colour with just subtle graphics. I opted for the radiant 'strawberry' just to be a bit risky although online retailer Wiggle suggested the safer navy blue. You won't wow other riders with crazy graphics, but it is tidy and looks serious.
If you are happy with the see-through mesh, the minimalist race-cut and have selected the right size, then all would be well except for the fragile mesh material. On the first ride for the photoshoot, I was surprised to see a few small areas on the front and back that showed signed of wear…. did I do something that caused this? On the subsequent ride I saw further scuffing on the sides but I couldn't pinpoint any unusual behaviour that would have caused this. My best guess is that it was my cycling gloves, they don't have any velcro but it could have padding on the palm of the gloves.
Three different types of mesh are used in the construction of the jersey and the 'snagging' or 'bobbing' only affected the mesh which was used for the front panel, rear pockets and partly on the arms. A closer examination of the seams revealed that this mesh in particular was more stressed than the others.
If you feel I am overthinking this, fair enough. But this is a jersey that retails for $110 AUD I havn't experienced this on my two mesh base layers and another mesh jersey (let alone all of the 'heavier' jerseys). The mesh used is particularly delicate and there are clear instructions to put the jersey in a mesh bag in the washing machine… which I did of course for every wash.
After signaling my concerns, the head product developer for dhb shared a response, "The ultralight jersey is made of superlight weight mesh jersey (80gsm) and is feather light. To achieve this ultralight weight and maximum breathability we have used combination of superlight weight circular & warp knit meshes (avg. 80gsm in weight) and its standard for fabric of such construction to have floating yarns on surface. This floating yarn & open fabric construction not only helps to wick and transfer moisture faster but also help to dry the fabric much more quickly than heavier weight or more compact construction fabric options.
Just to give you an idea, LAB Ultralight jersey uses 80gsm mesh vs Aeron Speed jersey uses 120gsm mesh which you may find to be more 'durable' but it's also heavier. Therefore, to provide an elevated performance fit for a hot weather / climber's kit, LAB jersey & its fabric combinations champions this feat.
The downside of the lightweight open mesh jersey fabric construction is that they snag easily if not taken care and sometime the floating yarn bobble after put through repeated motions. That's Ultralight jersey care label advises customers to wash the jersey in a wash/mesh bag. (but so far, we haven't seen any bobbling on any of jerseys we all have been testing and wearing – and no customer complains either). In general, circular or warp knit lightweight mesh jersey snag very easily and biggest culprits are Velcro on glove closures, anything in the pockets or item of kit / accessories with sharp edging etc."
Everything else works well, it is well made and suited to its purpose. The see-through of the mesh and suitability to your riding conditions come down to personal preference. In my case, it was a "romance that was never meant to be"… but have a feeling the regular Aeron Lab cycling jersey will be my perfect match.
In Summary
The dhb Aeron Lab bib knicks are comparable in quality with other top brands, riders need to take care choosing the size as they are relatively small. Some cyclists will be concerned with the low cut front of the knicks… but the fit and comfort are a top notch. The jersey is well made, performs well and incredibly light but alas, proved too delicate for me. The more reliable option for me is the regular Aeron Lab jersey… at the cost of a few more grams.
Read More:
dhb Aeron Lab Ultralight SS Jersey (RRP $109.95 AUD)
dhb Aeron Lab Ultralight Bib Knicks (RRP $169.95 AUD)
dhb Aeron Lab Lightweight socks (RRP $25.25 AUD)