Mechanics and Repair
(26)
Sort by: A-Z Newest
TeKin Suspension of Northcote in Victoria is no longer operating
18 Eastment Street, Northcote, Victoria, 3070, Australia
Velotech Melbourne Bicycle Mechanical Repair service from Northcote, Victoria is no longer operating.
18 Eastment Street, Northcote, Victoria, 3070, Australia
Good Cycles was founded by Loretta Curtin and Luke Wright. The idea for this social enterprise was hatched one morning over a cup of tea. After countless more cups of tea, a multitude of meetings and a lot of hard work, the concept has grown into an inspiring non-profit organisation. To many, Good Cycles is an organisation that simply offers practical and time-saving services to Melbourne's cyclists. These include our Docklands bike shop, service centre, workshops and our mobile bicycle mechanics zipping around the city on cargo bikes (carrying tools and parts on board) tuning up and servicing bikes while […]
750 Collins St, Tenancy 3, Level 1, Docklands, Victoria, 3008, Australia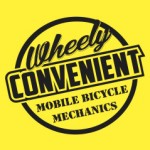 Wheely Convenient Mobile Bicycle Mechanics ride to your Sydney workplace and service your bike while you get on with your day.  No lunch time trip to the bike store and no loss of the use of your bike!
757 South Dowling St, Redfern, New South Wales, 2016, Australia
The Spin Doctor workshop is no longer operating. The Spin Doctor is a professional workshop, independent from bicycle retail. We work for elite cyclists across all disciplines, as well as 'the family bikes' for that weekend ride up the coast. Kyle Walter, the business owner, has a special interest in working with the cycling community to extract more performance from their bikes than they ever thought possible. Custom builds, suspension tuning, replacing parts and swapping group sets, The Spin Doctor does it all with skill, passion, and at a fair price. We operate outside normal business hours, enabling bikes to […]
70 Cherokee Green, Clarkson, Western Australia, 6030, Australia
Protune is my own workshop provides high quality work & better value for cyclists. Protune is just like the workshop at your local bike shop except we specialise only in repairs (& maintenance classes). This enables us to provide you with more of our time, which means we can gain the highest potential from your bike & provide better value for your money! I pride myself on being helpful & friendly, with having over 10 years experience working at some of Brisbane's best bike shops.
39 Hunter Street, Everton Park, Queensland, 4053, Australia
Voodoo Composites offers specialised carbon fibre repair services. Feel free to drop us a line with a picture and a description of your damage bike (or other) and someone will get back to you soon. Open random hours so please make an appointment before coming out.
Unit 9 / 24-26 Endurance Ave, Queanbeyan, New South Wales, 2620
the executive cyclist bike repairs serviced based in Sydney CBD is no longer operating. A bike repairs shop with a point of difference; We pick up from you office with repairs completed same day We offer the highest standards and value for money in road bike and general bicycle repairs because your pride and joy is our pride and joy.
305/661 George Street, Sydney, New South Wales, 2000, Australia
Mobile bicycle repairs based in Sydney's Eastern Suburbs. Repairs done at your home or place of work. All jobs big and small on all kinds of bicycles, from kids bikes to high end road race bikes We also repair Wheelchairs, Prams, Strollers, Walker Frames and Scooters. A large range of parts and accessories are stocked in our mobile workshop including: BBB, DT, Duro, Finish Line, Kenda, Rex,  Serfas, Sapim, Vittoria,  Wipperman, YBN. After hours and emergency repairs available.
6 Broome Street, Maroubra, New South Wales, 2035, Australia
Bike servicing, repairs and spares. Also offering Workshop Nights: teaching riders how to service their own bikes and offering assisstance with online purchases. Our Services included: Bike servicing, wheel builds, fork/lefty service, bike fits, parts and accessories
298 Sydney Road, Balgowlah, New South Wales, 2093, Australia