Bike Hire
(10)
Sort by: A-Z Newest
At Adelaide Bike Hire we provide a range of quality carbon road bike rentals for keen cyclists wanting to keep up their fitness while staying in our beautiful city of Adelaide, whether visiting for business or pleasure. Our city has some great cycling in the Adelaide Hills, along the coast, McLaren Vale wine region, as well as a fantastic week of riding at the Tour Down Under. We can also provide a guided ride service to make your Adelaide cycling experience even easier. Bike hire includes: * FREE delivery direct to your Adelaide accommodation * Minimum of 2 day bike […]
Adelaide, South Australia, 5000, Australia
This business has closed.
Hobart, Tasmania, 7000, Australia
We have a mechanic here 7 days for repairs and offer Same Day Servicing in the Brisbane CBD. Bike Obsession is a family owned and run business in Brisbane CBD. We also hire Bianchi Impulso road bike and have a fleet of urban bikes that we hire.
133 Mary Street, Brisbane, Queensland, 4000, Australia
Crank-e MTB Hire and Guided Tours Hobart Tasmania, your one stop MTB adventure store in southern Tassie! Crank-e's state of the art bike hire fleet include Specialized Turbo Levo electric mountain bikes, Turbo electric commuter bikes, Specialized Stumpjumper and Enduro MTB, and Specialized Sequoia and Diverge adventure road bikes. Crank-e also hires out bike trailers, bike racks, bike travel bags and tailgate pads. Crank-e operates guided electric mountain bike tours for all skill levels including Mt Wellington summit, the North South Track, Pipeline Track and Eastern Shores. Multi day and group packages available. Ask us about our exclusive Mates Rates […]
93 Harrington St,, Hobart, Tasmania, 7000, Australia
Kick Race Wheel Rental service which as based in Garran, Canberra (ACT) is no longer operating. Rent carbon fiber race wheels! Free delivery Canberra-wide with extra services available
Garran, ACT, 2605, Australia
Livelo is a new bike hire business.  Our fleet of hire performance road bikes can be rented by the hour or the day. Prices start at $30 of 1 hour, or $120 for 1 day. Bookings can be made from 5.45am, 7 days. Livelo's bikes are equipped with SPD pedals or we can install Look, Time or Speedplay pedals*. Our bikes are equipped with Garmin GPS units. Livelo conducts free group rides throughout the day. Personalised Sydney tours are available at a time and speed that suites you. Delivery options are available. Use of shower facilities included with your hire. […]
199 Clarence Street, Sydney , NSW, 2000, Australia
For such a small island the variety of cycling in Tasmania is unparalleled anywhere in the world. From the sandy beaches of the East Coast to the rainforests and hills of the West Coast. From the tourist draw cards such Cradle Mountain and Port Arthur to hundreds of kilometers of quiet gravel and rural roads. There's the Tasmanian Trail that follows dirt roads and forestry trails for 500km from Devonport on the North Coast to Dover in the south. Or get well off the beaten track and car free on Maria Island. LongHaul Tasmania hires fully equipped Surly Disc Trucker […]
Mountain River, Tasmania, 7109, Australia
See the beautiful Yarra Valley the fun and easy way by booking a journey with Rail Ride. Travel the historical railway alignment aboard a tandem tricycle between Warburton and Yarra Junction as your personal guide does all the pedalling! 2016 Update – Website is broken, and this service may no longer be active
P.O. Box 268, Warburton, Victoria, 3799, Australia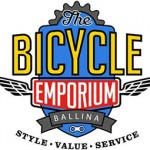 Ballina's newest bicycle shop brings new ideas, new products and a new approach to customer service with the latest in style at the best value; Bicycle Sales, Repairs, Servicing and Hire. The Bicycle Emporium is the last word in all that is great and wonderful about owning, fixing and riding bikes. From the latest innovations, to the great masterpieces of the past and everything in between, we are passionate about bicycles and cycling. Whether they are old or new, built for comfort or for speed, we believe bicycles are meant to be ridden, not gathering dust in the shed and […]
2/158 River St, Ballina, New South Wales, 2478, Australia

VELO-PORTE is performance road bike hire and delivery – Adelaide South Australia Our mission is to put you on great bikes on fantastic roads with the minimum of fuss. Whether you want a cruise to the beach or to escape into the beautiful Adelaide hills VELO-PORTE can make this happen. You don't have to plan a cycling holiday, whatever your reason for coming to Adelaide is, just travel light and ride away. All our bikes are full carbon Fondriest TF3 1.2's with Di2 Ultegra group set. Treat yourself and upgrade to Mavic Cosmic SL wheels and a Garmin 800.
Adelaide, South Australia, 5000, Australia