Factory Tour – Rotwild in Germany define Bike Innovation
"We are just a small bike brand," says Ole Wittrock of Rotwild. With 25 employees producing 5000 bikes a year, they are small, but significant, and they have a connection with Australia; in 1996, the company's first year, they scored their first competitive success when Stefan Herrmann won the Downhill Mountain Bike World Cup in Cairns. While they're relatively unknown in Australia, there's a lot to this German brand that's worth taking the time to get to know. 
On my recent trip to Germany, I received an enthusiastic reception on my factory tour when I visited Rotwild. Located 40km south of Frankfurt in Germany, the company is housed in two large buildings in the industrial area of the small town of Dieburg. The buildings appear modern, but the warehouse and assembly building is older than it looks and was carefully restored by Rotwild to retain some of the original character, such as the wooden structural beams.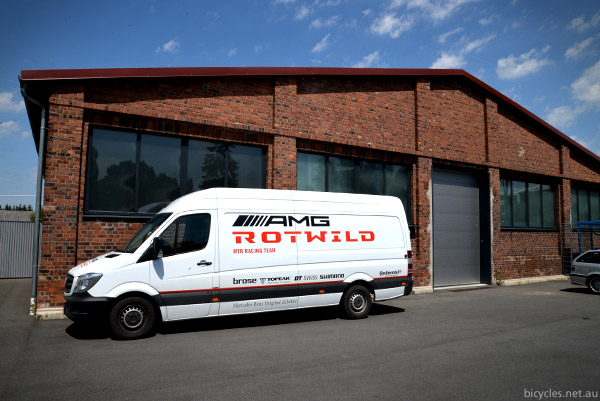 The original wooden beams were retained during warehouse modernisation
Ground breaking innovation
Rotwild was born out of innovation, the company founders, Peter Schlitt and Peter Böhm, began making carbon fiber brake boosters for mountain bike suspension in 1994 under the name ADP.

ADP Engineering (and Rotwild) co-founder Peter Schlitt
In 1996 they were asked to build a complete bike to show at the popular Riva del Garda bike festival in northern Italy. The prototype they presented was ground breaking, it included electronic shifting, a belt drive with an internally geared rear hub, and a disc brake on the front. The bike turned a lot of heads as it was years ahead of its time, and it became the catalyst for Rotwild to launch as a bike brand.

The original Rotwild concept bike from 1996

ADP brake boosters with electronic shifting (carbon fiber box) and belt drive

Rotwild are a well known brand across Europe for mountain biking and, following the European MTB categorisation scheme, they cover Race, Cross Country, All Mountain, and Enduro/Gravity. The MTB range takes you from hardtails and low (120mm) travel MTB bikes right through to tough as nuts full suspension downhill bikes with 200mm travel. Even with carbon fiber frames, aluminium frames, and various wheelsets from from 26", 27.5", and 29ers in their lineup, the range is still quite compact with a focus on creating fewer, but better, models tailored to each style of mountain biking.

The RHD P2 downhill bike from 2006 went against the grain with a carbon fiber rear triangle
German Cycling Device
The tagline "German Cycling Device" is used by Rotwild to represent the brand. While it sounds awkward to an English speaker, it is quite apt in defining the "Made in Germany" bikes, while "device" suggests technology and performance.
The carbon fiber and aluminium frames are manufactured in Taiwan and the complete assembly takes place in Germany. I was escorted through the assembly area with 12 workstations where the turnaround can be ramped up or down to match customer demand. Their "Made in Germany" quality means that the bikes are ready to go 'out of the box' and don't require the complete setup and check necessary for many brands shipped directly from Taiwan.

Assembly stations for the Rotwild MTB's 
The WOW! effect
While "Made in Germany" is well regarded, the real 'wow' effect for this brand is their bigger picture. Rotwild are part of ADP Engineering, and this team also make the exclusive bicycles for car brands including Mercedes Benz, AMG, Audi and Porsche. You have probably seen these 'car brand' bikes in a car dealership; each bike is unique, designed specifically for the automotive brand. The Porsche bikes are a good example; they feature a top tube/seat tube curve which matches the roof of the Porsche 911, and of course carrying the name Porsche, these bikes are very exclusive.
This engineering and design skill has car companies knocking at their door. Rotwild is very much 'mountain biking', but the design and engineering team are proficient in road and urban bike design.

The Porsche bike top tube design matches the roof profile of the Porsche 911
Bikes with purpose
As Ole leads me through the engineering department, I get the feeling that bike design is driven by 'purpose'. The shelves are decked with prototypes and sections from bikes. Both a mountain bike and a road bike in the office are covered in strain gauges. The strain gauges measure frame flex and movement and this data is collected and compiled to understand the frame movement.

An early frame-flex test bike next to a cabinet of prototype and sample parts

'Old School' strain guages delivered valuable data on frame flex
A Porsche bike headset is handed to me and I am asked to inspect the carbon fiber weave. A cross hatch (woven) carbon fiber weave is used around the headset while a uni-directional carbon fiber weave is used along the tube. Ole explains that some bikes brands use the cross hatch weave on the entire frame but this is just for the 'carbon fiber look' as opposed to selecting the best suited carbon fiber for each part of the frame.
In plain text, Ole is demonstrating that marketing is not the deciding factor in their bike design, rather the engineers draw from the results of testing and genuine performance benefits. This can result in more complex requirements for bicycle frame production, for example welding internal splines on a MTB to increase strength. This affects the cost of production and in turn, the retail price. But just like Mercedes Benz, Audi, and Porsche, the emphasis is on quality and not 'lowest price'.

Rotwild and Porsche headset sections, behind are hydroformed tubes
And now for something completely different
Having lived in Germany for over a decade, Rotwild was already a familiar bike brand to me, but my motivation to reach out and visit was their innovation in eMTBs. Purists will rant at the thought of motorising a bike, and skeptics will argue about the logic. When the first eMTBs were presented at Eurobike years ago, I found it tough to imagine a real market for eMTBs, but in Europe electric Mountain Bikes are booming. During this visit to Germany I was surprised by the number of encounters with lycra clad eMTB riders scooting through the parks and forests.

Rotwild tackle the exploding eMTB segment with a bang
Ole Wittrock explained that with the 250 watt capacity motor, they are still classified as a bicycle and legally allowed on the trails. Technically they are labeled a pedelec which means that there is only motor assistance while you pedal. You can only get assistance up to 25 kmh, after which any motor assistance cuts out.
Considering the size and the weight of the motor and battery, 'electrifying' a bike requires a lot of compromises. In contrast to leisure or commuting cycling, an electric motor on a mountain bike becomes even more challenging because, as a sports bicycle, the rider position and performance is more significantly impacted by the changing frame geometry and weight. For good weight distribution, a bottom bracket motor is preferred (as opposed to a front or rear hub drive), however the available electric motors required changes in the frame geometry – it was a compromise.

The shell of the Brose e-bike motor which Rotwild use for their mountain bikes
Rotwild are no stranger to innovation and teamed up with a brand new entrant into the electric bike motor market. Brose have a long history manufacturing motors such as electric car windows or electric car seats for all the big German car brands including Mercedes Benz, BMW and Audi. In 2010 Brose started development of their e-bike motor and in 2014 began production. The appeal of this e-bike motor is that it allows Rotwild to integrate it into the mountain bike frame while retaining the frame geometry (including suspension pivot points), something which was not possible with the current generation Bosch or Shimano Steps e-bike motors. Working closely with Brose is BMZ who supply batteries and who created a custom battery for Rotwild.

Seamless motor and battery integration into the frame
The battery integration by Rotwild is impressive; hardly recognisable as an e-bike, the battery is integrated into the downtube. The idea of integrating the e-bike battery in the downtube is hardly new, on the Rotwild MTB the battery becomes structural, the battery is the downtube.
You can expect more details on the Brose motor and BMZ in future articles as I have also visited the Brose e-bike motor production facility in Berlin.

The Brose motor allows the optimal frame geometry and pivot points to be retained

Inside Research and Development, a Rotwild without the battery downtube
How does it ride… is an eMTB right for me?
I took a short on-road test in Berlin, though I didn't get to do a trail test. The motor assist has three settings: Cruise, Tour and Sport. The Cruise setting is subtle, hardly noticeable, though provides a comforting extra push. In Tour the assistance remains smooth, but the additional power is more noticeable, while in Sport mode the motor assistance becomes a little twitchy and the boost of the motor is powerful.

Sport mode provides powerful motor assistance
On the flats it was easy to exceed 25kmh, so it is obvious that the motor assistance makes sense on longer cross country tours and uphills. For technical trails however, such as Australian single trails, the additional bike weight (motor and battery) and necessary bike handling skills would mean that the motor assist would probably be out of place. The real advantages would be for long MTB tours with smoother, predictable terrain.
For eMTB's in general, there are three audiences who I foresee as getting the most benefit from the pedal assistance. The first are the extremely active mountain bikers who view the motor assistance as 'range extenders', a way to ride further than before. The next group are Downhill lovers who want the power to get back to the summit. This group will have the heaviest demands on the battery and will likely have to wait a few generations for batteries which can last all day.
The final and largest group are the riders who need the power to 'keep up' and enjoy. This includes senior riders or riders who don't have the same condition as their riding partners and for whom the eMTB is a way to limit overexertion and increase their joy; they become empowered to be more active.
Where to get your Rotwild
Rotwild's reputation in Europe is partly because of their focus on Europe. While there has always been interest in Rotwild from further abroad, Ole suggests that the advantage of 'staying local' is that administration, service, and marketing remains more concentrated.
For Australians', getting Rotwild is a little harder as they are not appointing importers or dealers in this part of the world however Ole assures me that some of their German Rotwild dealers will ship to Australia, so check out their dealer locator. Discerning riders can also get a slice of cycling innovation and exclusivity from premium car dealers; Mercedes Benz, AMG, Porsche and Audi occasionally feature the brand's bicycles in their show rooms.
UPDATE: The Electric Bike Centre in Kawana, Queensland is importing Rotwild eMTB's and the 2016 models will be available from December 2015. They are already anticipating demand so it is recommended to get in early.
For more information on Rotwild, visit rotwild.de and for ADP Engineering visit adp-engineering.de (German only)
Related: