Review: Gear Up for Winter with the NSR Gigaheat Fondo Jacket and Bib Knicks
Never Stop Racing is encapsulated in the name of the South Korean brand NSR Riding who want the brand to stand for "Riding Emotion". I hadn't heard of them previously and there is more behind NSR than you may assume, the brand belongs to the South Korean apparel and sporting-wear giant Shin TS which boasts over 10,000 employees. Have you heard of Jack Wolfskin, Schoffel, KTM, Dainese, Geox or le coq sportif? Shin TS manufacturers activewear for these quality brands (and more) and from the branding through to the quality of the products and functionality on the bike, NRS Riding is pitching itself as a premium brand.
NSR Riding was launched by Shin TS in 2010 and until now have remained largely focussed on the Asian market. Their cycle-wear is targeted towards sports cyclists and NSR Riding boast a comprehensive range; numerous jerseys, bike shorts and knicks, base layers, gloves and cycle clothing accessories such as neck, arm and leg warmers. The designs and styles are modern, technical and come with a touch of avant garde. They also offer a complete range of cycle-wear for women, it's not just an afterthought.
Now NSR is moving beyond Asia and are introducing their brand to Australian and American cyclists… in fact, they are going global. As Australia gradually moves towards into the cooler cycling months, I am in Europe testing their functional cold-weather cycling jacket and bib knicks, the NRS Fondo Gigagheat jacket and bib knicks.
Fondo Gigaheat Jacket- Two Below Zero
Price: $295 Aussie
Long-distance mass participation rides are in fashion, but so is describing cycle wear or even bikes as Gran Fondo Style. NSR have designed this cool weather jacket to keep you warm for long rides… and to keep you looking good the whole way. The Gigaheat jacket shares the elegance of Italian design right down to the pattern and textile selection.
The sleek all-black jacket has a solid and reliable zip and attention has been given to the details with silicon grippers in hem, dark coloured reflective striping on the back and soft red fabric inside the collar. It is a classy affair until you unzip the jacket and unleash some pure Asian-style bling.
The thermo fabric on the inside has a shiny silver lining which may not appeal to everyone, but it works well and if you keep your jacket zipped up, no one will ever know.
The fit is comfortable – based on the sizing chart I was borderline (M or L) and because Asian garment sizing tends to be small, I opted for the European size L jacket to be safe (which corresponds to the Asian size XL). The shoulders and sleeve lengths were spot-on and for my torso the jacket was fitted but generous. Without a rugby players neck, I would have preferred a smaller collar for a tighter fit so I used a sleek black 'buff' neck tube (neck sock) which is a better option providing the flexibility to adjust to suit… for real winter cycling you will need all of the extras anyway.
The full-length zip is solid, easy to use and appears to be water-resistant. A small pouch at the top of the zippers on both the jacket and bin knicks is a welcome touch and ensures that the zipper-pulls are secured.
The Jacket (and knicks) incorporate various types of materials, thoughtfully selected and sown to provide super breathable and airy sections and super windproof and insulated sections in all the right places. The entire chest and abdomen are protected and insulated so that your core remains warm.
The tail of the jacket is long and the front is short, as you expect with fitted cycling tops, however in my riding position I found that the jersey bunched a little around the chest so for my chest fit the (European) M sized jacket may have been a smarter choice for me. With the thicker padding this cycling jacket differs from regular thin layered cycling jackets so a snug fit is important when it comes to cold weather cycle-wear.
The jacket has three rear pockets which are quite compact so are great for holding things tightly such as your wallet and smartphone. The small pockets however make it difficult to access things in your pockets while riding, in particular if you are wearing winter gloves.
As a cool weather jacket, NSR state a temperature rating of -2°C & Below however almost all of their jackets have the same temperature rating. I wonder whether they actually mean, down to -2°C. I tested the Fondo Ggigaheat jacket and knicks in -8°C and felt that this was starting to push the limits. While the jacket does everything right, for very cold temperatures you need to layer-up; a base layer is a must and coupled with a cycling jersey and the Gigaheat jacket, you will be prepared for the coldest Australian winters.
In fact, you need to keep quite active and maintain a good cycling pace for temperatures of 5°C+ or below to prevent cooling down. The GigaHeat Gran Fondo has great breathability and does a good job of releasing sweat, this is means that it will also start to release the heat if you stop moving.
Once you hit temperatures of 10°C and warmer, you can take a more relaxed riding pace and rely on the excellent wind-stopper attributes. As I tend to ride swiftly, for higher temperatures I would transition to a lighter jacket to avoid overheating, but the Gigaheat fond was also great for cycling leisurely with the kids and is particularly reliable and comfortable for commuting when it is cold and windy.
Some riders may criticise the dominant all-black design, all of the garments have reflective strips for night riding and I would argue that bike lights take precedent for cycling visibility and safety ahead of the colour of the cycling gear.
Even with the stylish design, the Gigaheat Fondo it is not a orientated towards high level performance road racing, rather it is a great performer as a long distance, training or bunch ride jacket. This actually makes it a better all-rounder and will help give you a better experience as you ride through the winter chill.
Fondo Gigaheat Bibs
Price: $256 Aussie
Accompanying the jacket are the Gigaheat Fondo bib knicks which match perfectly in style and function. The black is a good colour choice and the details are subtle – the reflective stripes are even the black-style stripes and the perfect understatement.
I also selected size L for the knicks which were a good fit both on and off the bike. The reassuring close fit were comfortable while pedalling. Some long-leg winter knicks are too thick or too tight and end up restricting leg movement – not the Gigaheat's.
The braces are nice and wide and there is a short zipper on the front to make sure the belly stays in place, like the jacket it also has a small pouch so that it doesn't catch or scratch other clothing.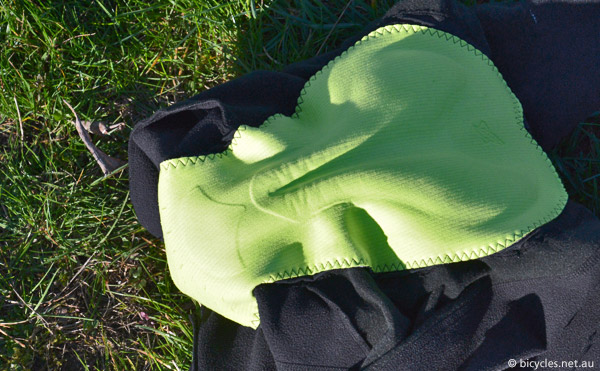 The chamois is a thicker style padding (TMF's R.P.S. Skyve Pad 2.0) which is typical for long distance riding (racing chamois are usually thinner). I am quite used to thinner race style chamois and while the thicker padding was noticeable, it was comfortable on the longer rides which is a good confirmation.
The knicks are designed for breathability and the skin hugging material felt warmer from the outset and maintained warmth relatively well after stopping.
Do you or don't you?
When the mercury drops and it's time for full-fingered gloves, then it's time for the Gigaheat Fondo cycling jacket and bib knicks. Most cold weather cycle-wear is garish or makes you look as though you are setting off for an outback trek, in contrast the NSR Fondo Gigaheat jacket and knicks are functional and smart.
Australian riders in the southern states and cooler mountains who face longer riders with chilly temperatures will benefit most, for warmer temperatures or variable temperatures where you would shed the arm warmers and leg warms, the Gigaheat is probably too warm. Road racers edging for the finish-line will probably be better served with the NRS Flash jacket or NRS Fondo Record Gilet.
The South Korean brand delivers on quality, style and functionality and their NSR cycle-wear is priced accordingly; the Gigaheat Fondo bib knicks and jacket combo costs ca. $550 ($295 jacket / $256 knicks based on the current exchange rate). Currently the NRS range is available online and they are also now seeking direct distribution in Australia so the range should be available soon in bike shops.
See the range at www.nsrriding.com