The Ground Effect Turbine and Frosty Boys Jackets in Review
It's one thing to be known as The Red Baron, and quite another to be called Little Red Riding Hood, but as I sliced through the chill air in my red Ground Effect Turbine jacket , I was too comfortable to care. The Turbine Jacket is the new "shell ware" from Ground Effect. It is a red windproof and water resistant cycling jacket. Given that Ground Effect is based in Christchurch on the South Island of New Zealand, it was fitting that I tested the Turbine jacket during the Tour of New Zealand in April 2012.
There is probably no better way to test the abilities of a cycling jacket for Australian conditions than to do some serious cycling in New Zealand's South Island. From day one of my tour until the finish I fought chilly temperatures and wildly varying conditions through valleys, up switchbacks, over mountain passes, down long descents and across wind blown plains. During all of this I wore a base layer, a jersey, and the Turbine over the top of it all.  The jacket's stretchy Vortex fabric, while light, provided enough wind protection that my arm warmers never needed to make an appearance.
The Turbine has three pockets in the back that are large enough to hold spare tubes, energy bars, a phone and ID. Accessing the pocket's contents is easy, though in long fingered winter gloves it was sometimes a bit of a challenge as the pockets don't have stretch of lycra. The middle pocket zips up, which is good for peace of mind. There is also a small zip-up pocket on the right breast that comfortably fits a smart phone. Zips on the forearms allowed a bit more air inside and, though I didn't make use of them, there are thumb-loops to keep the sleeves down on your wrists.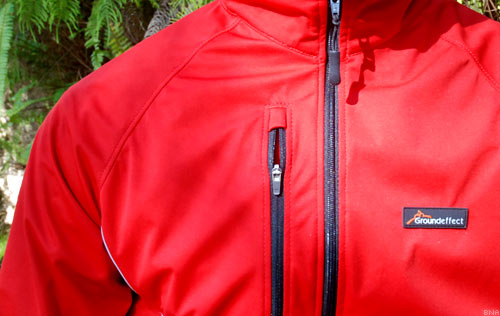 In case other road users miss the Turbine's bright red colour, the jacket has reflective piping on the font and back and some funky reflective graphics on the sides. These score points in my book; they are nicely integrated in the design, so they don't scream 'Safety Vest', yet still add an important safety feature.
With changing conditions and micro-climates while ascending and descending, the Turbine was light enough and breathable enough to remain comfortable. It still holds in some moisture, but good layering with a quality base layer and jersey mean the sweat transfer can be regulated. Even on long ascents or when finishing a ride I never got the feeling that I had to tear the jacket from my body.
Wind protection is the main advantage that the Turbine offers. On fast descents pushing 60km/h plus, it provided an effective wind block for my chest, minimising wind chill. As a water resistant jacket, it held off light rain though it is definitely not a rain jacket. Facing heavier rainfall during one stage of the Tour of New Zealand, I had to slip a light rain jacket over the top and battle another 45km along the wet undulating road. The narrow fit of the jacket and its stretch fabric meant I was both able to wear the rain jacket over the top as well as a thick and warm Gore-Tex jacket underneath.
As I faced long days in the saddle with uncertain weather conditions ahead, the Turbine became a standard part of my cycling uniform and temperature regulation was quite good as I rarely needed to unzip the jacket. This jacket really shines on longer rides when a cycling jersey alone is not enough. During warm riding conditions, the Turbine is still comfortable and only when it starts to get hot would it become overkill.
The jacket's collar is high and comfortable and, as I like the extra protection around my neck, this was a welcome feature. Another feature that made me smile was a hidden puncture repair patch, a fun touch to a such a versatile jacket. While the jacket can be folded and fit in the back pocket of a jersey, it is quite bulky in that form, so I would make a decision before riding whether to wear it or not, rather than lugging it along as a backup.
One criticism I have of the Turbine is the stitching on the back pockets. The Vortex fabric is not as forgiving as lycra and after plenty of time on the road, slight tearing was visible. To be fair, the pockets were usually full during riding and at times I had full fingered gloves on when looking for an energy bar. Given that the Turbine is one of the most popular cycling tops from Ground Effect, more reinforcement in this area would really be the icing on the cake of this otherwise excellent top.
The Ground Effect Turbine jacket jacket is functional, stylish and fits well. It is the perfect jacket for the cyclist who prefers comfort to "Euro Cool" logo emblazoned jerseys. It is available online for $159 and is a worthwhile addition to your cycling wardrobe for when it is too cold for just a jersey, too warm for a fleece and when you may face changing weather conditions.
Details and specs for the Ground Effect Turbine Jacket

Frosty Boy, for when it really gets cold
The Ground Effect Frosty Boy is what you need when conditions are icy and you want to stay warm. This jacket has the windfoil front, ample fleece and a high collar. It feels cuddly and warm and you would be forgiven for reaching for this jacket for your early morning ride… but don't do it!
If you're on a training ride, a morning commute or a regular mountain bike route, if the day warms up and your riding has your blood pumping then this jacket will quickly get you too hot. So while it's tempting to put this jacket on first thing on a cold morning,  unless it stays really cold a lighter jacket such as the Turbine is more appropriate. When Ground Effect were showing me the Frosty Boy they mentioned mountain biking in the Southern Alps of New Zealand; the Frosty Boy is ideally suited to such extreme riding conditions.
I found the jacket to be very well made; it looks and feels like a quality garment. Reflective piping along some of the seams provides some added safety, though for low light and night time riding conditions the grey fleece on the back means you are less visible to traffic from behind. The Frosty Boy also comes in a black / lime green fleece version which would increase your visibility to traffic from behind (though you are then predominantly black from the front).
Though this is a warm, fleecy jacket, it is relatively light (338 grams) and comfortable. Unless you live in a particularly cold region, this jacket is less likely to worn regularly and should instead be reserved for cycling events and trips with weather conditions to suit. At $139 I would rate this as a great buy for a New Zealand made performance cycling garment.
Further details and purchasing online: Ground Effect Frosty Boy

Do you love good socks?
Well, I love good socks and Ground Effect have some nice ones in their collection, the long ankle biters ($29) and the shorter toe rags ($19). They are pricey compared to cheap supermarket socks though compared with other socks in this category they are competitively priced.

Ground Effect Ankle Biters

Ground Effect Toe Rags
As merino socks I found them comfortable, they keep your feet dry and a plus, they don't smell so great for epic rides. These are summer socks and are quite airy, for warmer merino winter socks, Ground Effect have Zig Zags and Lucifers.
Because of the colour and style of the longer ankle biter socks, they suit Mountain Biking. For road cycling I usually opt for a colour to match my kit so the shorter Toe Rags were a better match though these are a little thicker than most of my cycling socks.
Both of these socks are standing the test of time quite well and while they show signs of fuzz and wool "balling", where cheap supermarket sports socks need to be tossed in the bin, these are quality socks that will outlive cheap socks.
See the Ground Effect Toe Rags
See the Ground Effect Ankle Biters
5 responses to "The Ground Effect Turbine and Frosty Boys Jackets in Review"