Italian Bicycle Line Cycle Wear Targets Pole Position for Style and Quality
Published: 16 August 2013
Many of the well established players in the clothing market have loyal customer followings, so how do new entrants break into that group? Some do it with flair and styling like Rapha, some use the retro styling as a niche tool, but Bicycle Line have done something different and created some garments with unique and useful features in an attempt to lure customers. I got to try a selection from Bicycle Line, and here are my findings.
"Dyrupo" High Performance Man Gloves (Long finger) $48.50 RRP
Yes, they are really labelled "High Performance Man Gloves"! Maybe a bit of double translation issue there ? These are labelled as being for MTB, but I used them exclusively for the road.
I've always enjoyed having other options for those semi-chilly autumn/spring mornings when normal gloves offer little protection against the chill of the rushing cold air. This is important for me as many of my rides are also at night where it can start cold and rapidly get colder when darkness really takes over. Especially in Radelaide with the low humidity and the bite of the winter chill.
These gloves have generous gel pads in the typical areas, but they are not overly bulky or restrictive. They have a fine mesh over the back of the fingers and hands that despite appearances are good to temperatures approaching the single figures without allowing the fingers to freeze up and become stiff. There is a small red strap on the palm side to aid in pulling the gloves, which is useful, and the velcro closing tab is suitably sized and positioned. Though there are no removal tabs (which are sometimes handy on fingerless gloves) these are not missed, as the long fingers make them easy to remove.
I tend to struggle to get good gloves that are big enough, even though I don't have big meathook hands. I wore the XXL gloves; they fit quite well, but for some reason the length of the 1st finger was about 3 – 5mm short, meaning that there was a constant pressure on the end of my finger (haven't experienced this with any other gloves that I have worn). Not a major issue, but if I had tried these on in the shop before laying down some cash, I probably wouldn't have bought them based on that. Based on performance, however, they are definite winners, primarily because of their quality construction and materials, and their comfort in any position on the bars.
"Skaya" Overshoes $52.00 RRP
Going by the expansive label (anything EU made these days can have a label that is bigger than the item itself), these overshoes are manufactured in Romania, and are 80% Polyamide and 20% Elastene. This is a thick stretchy fabric and includes a small reflective vertical strip at the rear – pretty standard in comparison with most other brands.
What makes the Skaya stand out as something a bit different is the arrangement of the zip & velcro closure combination. "So What?" I hear you say?
The difference is that the zip only goes up halfway (to the ankle bone), and then the large velcro flap closure takes care of the upper section. This makes them much easier to get in and out of, and I often found that I didn't even need to use the zip. The style of the Velcro flap is such that it looks a bit untidy when it's done a bit tighter – it looks like an 'ear' growing out the side of your foot, much like the ear that was grown on the mouse some time ago – a bit odd (not as gross as the mouse, but hopefully you get the idea).
While I expected the stretch fabric (with no inner warmth layer) to be a poor performer on colder nights, just like a similar pair I have (PRO NPU), I was very pleasantly surprised by their ability to keep the chill out when it dropped into single digit temperatures. A few wet rides revealed that the easy entry/exit design also provided additional entry points for water to get in (between the junction of the zip and Velcro) meaning that they are more suitable as a cold weather overshoe than for wet weather. Great performance in chill prevention and easy to use.
"Reattiva" Bib Shorts $92.50 RRP
These unassuming black/white bib shorts were equal in comfort and performance to any of the other of my favourite bib shorts that I have managed to find in the last 9 years of cycling. I'm quite fussy about the quality, size and shape of padding as well as where the seams are placed. I have been through many brands and models in order to find ones that I am comfortable wearing.
The bright orange chamois is the 'Elite' which is aimed at long distance rides and features four different foam constructions/layers that are appropriately placed based on their role in the chamois. A unique setup that provides support for where it is needed most but with a seamless cover to minimise the opportunity of the dreaded saddle sores – just ask Ivan Basso and Tom Boonen about how bad they can become.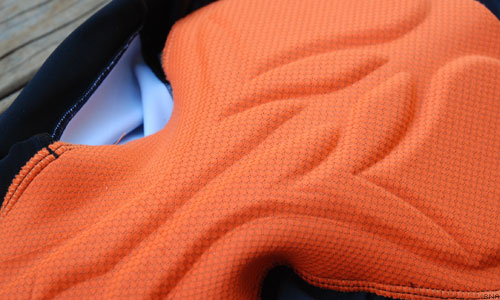 The silicone leg grippers are a series of small dots on a wider leg elastic that provides a very secure and stable leg position without providing a stranglehold on the leg. There is also a small reflective silver tab sewn into the seam on each side of the leg above the cuffs for night timing cycling safety – a neat little touch. The fabric is a medium weight smooth style lycra that is quite flexible, but does not make you feel like you are in a compression girdle, even if you have the typical MAMIL 'abdomen' as I do.
The waist is quite high on the Reattiva, meaning the dreaded 'pit stops' need a bit more careful manoeuvring than some other brands. The support straps are of the same material and quite wide and, comfortingly, just the right length to provide support without undue pressure on the shoulders.
There is some accompanying marketing blurb on the swing tags of the lycra being a 'Power Stretch fabric' that 'guarantees muscular support' and will ultimately improve performance. This isn't compression wear and I found the XXL was a good fit to my 184cm, 96kg frame. The Reattiva bib shorts have quickly ranked among the favourites in my drawer, which also houses Sugoi, Nalini and Santini.
"Reattiva" Long Sleeve Jersey $132.50 RRP
Seems like any other jersey, doesn't it? Well you couldn't be more wrong. I initially thought that it was a normal jersey with removable sleeves. This ended up being the absolute pick of the bunch of the Bicycle Line cycle wear. The styling on this jersey matches the Reattiva bib shorts (as you would expect from the name), but it also has a bit of red to break up the monochrome colour palette.

Modelled by Christopher with a slightly smaller build than reviewer Michael Bachmann
The reason I selected this jersey was that it featured removable sleeves; I felt that it may be a good compromise for when the temperature changes mid-ride, or after a hilly ascent when you need less garments, but it's not quite cold enough for a rain jacket on the descent. When I received the Reattiva jersey, I was impressed to find that it had some really brilliant features that I wasn't aware of.
The jacket features a combination of the typical jersey material but with panels of a windproof membrane called 'Zero Wind'. This fabric, which is touted as being 'absolutely wind and water proof', possesses 'dinamic [sic] breathability'. I tested these claims over many autumn and winter rides, and I can honestly say that it isn't just marketing hype! The jersey is constructed as a normal short sleeve jersey (3 pockets at the rear), and only the front panel (either side of the zip to the side seams) features this windproof 'Zero Wind' fabric. The detachable sleeves have the same fabric on the top half of the sleeves, with the bottom half of the sleeves in plain black breathable stretch type lycra. The zips meet at the top of the shoulder and run under the armpit and are completely unobtrusive, whether the sleeves are fitted or not.
While this doesn't sound like a huge deal, what this means is that this is more like 4 separate garments in one – a short sleeve jersey for those cooler autumn/spring days, a gilet when worn with a long sleeve base layer (no sleeves on jersey), a light rain/shower jacket when you get caught in a spring rain shower, and a wind proof outer layer when descending at high speed.
The very first ride in which I trialed the jacket was climbing Mt Osmond near home. I wore it as a short sleeve jersey on a balmy but overcast evening (about 15 degrees, but cooling down). Once I had reached the top after a shortish, but steep climb, it started to rain. So I stopped, fumbled a little bit, got the sleeves on in a few minutes, and then proceeded to fly back down the hill and home in the rain, taking full advantage of the wind and waterproof properties of the 'Zero Wind' fabric on the sleeves and jersey front. I arrived home pretty dry and suffered no wind chill. The temperature had dropped about 5 degrees since the rain started so the wind proofing was a very welcome feature. The Reattiva is like a normal cycling jersey in that it doesn't flap in the wind like a sail, nor does it create that sauna effect due to lack of breathability.
In short, this is an absolute winner, and is unlike anything else I have seen from the other big name suppliers. The only drawback that I can come up with is the lack of colour choices. When I get the chance, I WILL be buying a spare, I think it is THAT good.
Summary
Given the plethora of options and suppliers of similar garments, it is hard to take a plunge and buy from an unknown brand particularly when they are not yet readily available in-store where you can get a good look and feel and try the sizing. The experience of actually trying these has opened my eyes to casting the net a bit wider and trying other brands. The quality is definitely first class, as is the function of each of the items, with the Reattiva Long Sleeve Jersey being a definite standout.
"Dyrupo" High Performance Man Gloves (Long finger): Plain looking, but great performance with odd 1st finger length.
"Skaya" Overshoes: Zip/Velcro closure combination makes them easy to fit/remove, and fabric is surprisingly good at keeping away the chill, but not brilliant at keeping out the rain.
"Reattiva" Bib Shorts: Equal to other top end brands, with great chamois and comfortable fabric.
"Reattiva" Long Sleeve Jersey: Brilliant jersey – four garments in one that are useable and cover a wide range of weather conditions. Eminently useable and very clever design with quality fabric combination.
Where do you get the gear?
The Australian importer is Panda Imports in Cottesloe, Western Australia, so give them a call (+08 9284 3819) or write an email to find your nearest dealer as they expand their dealer network for Bicycle Line cyclewear across Australia.
You can also find more information about Bicycle Line and the range of cycle wear online: en.bicycle-line.com
One response to "Italian Bicycle Line Cycle Wear Targets Pole Position for Style and Quality"