2014 Adelaide Velo-City Global Conference Wrap Up
The past week has seen a flurry of cycling activity around the city of Adelaide. For the "cycle passionate" this was signified by the Velo-fringe festival although you should have also noticed the Velo-City signage on buildings and bicycles around town. Adelaide was the host of the international annual event which connects cycling advocates and planners – people who are working to achieve improvements in government policy, community integration, and infrastructure and planning to better accommodate cycling.
The main conference spanned four days and there were a number of other official and unofficial events surrounding Velo-City Global. The conference traditionally takes place in the northern hemisphere and so hosting Velo-City in Adelaide is a coup for the Australia; visitors representing local councils, state and federal government departments as well as advocates benefit from the knowledge of the international panel of speakers.
The visit to Australia was also an eye opener for many of the international delegates who were confronted with the reality of life on Aussie roads. For example, the mandatory helmet laws (whether you agree with them or not) were repeatedly questioned.
From a conference dominated by cycling enthusiasts speaking and in the audience, there were plenty of opportunities to nod in mutual agreement. But far from being one big 'feel-good' experience, a host of simultaneous sessions explored themes into the deepest facets of cycling; case studies of cities and projects, cycling politics, cycling safety, town and infrastructure development, economics of cycling, technologies and cycling, and challenging the stigma of cycling… to name just a few. Adam Spencer hosted fast paced 'spin cycle' presentations which provided even more insights and ideas while many of the sessions encouraged discussion and audience question and answer.

Question and Answer sessions at Velo City in Adelaide
For experienced practitioners, there was a mountain of information to re-enforce and encourage but also plenty new information and gems. A narrow selection of standout ideas and concepts follow:
Danish consultant Niels Hoe (Hoe360) highlighted the value of cyclists bringing in business revenue. Where a motorised journey takes an individual from from A to B, a cyclist is on the other-hand is more flexible to stop, park and shop when traveling and provides more opportunities for business and removes the rigid centralisation of businesses.

Niels Hoe of Hoe360, Denmark
A common theme that was addressed by many speakers, including Niels Hoe, was concentrating on creating smaller, lower cost and reversible infrastructure for alternative transport. This infrastructure can be trialled before a fully fledged introduction or adoption and importantly, if it doesn't work or is a failure, it can be easily be reverted. This approach is 'politician friendly' as politicians are notorious for backing popularity and success. It remains important for decision makers to commit to do something rather than to holdback indefinitely to chase the dream of absolute perfection.
Some of the ideas presented at Velo City which can facilitate cycling growth are so obvious that it becomes increasingly difficult to understand government reluctance to cater to cycling. The American speaker Larry Frank approached the topic of health benefits with hard data to show that the savings on health spending for the economy would be far greater than the investment in infrastructure and increasing cycle participation rates. And to create a fair system, Frank argues that investment in the different transport options should be performance based – of course the return on investment for cycle transport trumps car transport.
Many of the speakers focussed upon "the cyclist" as pre-defined audience group because the media typically stigmatises "the cyclist" as the sports cyclist… or lycra-glad road warrior. In reality, a cyclist represents a far broader group and is more effectively represented by the every-day person in normal clothes who choses a bicycle as the most suitable transport for a journey. Patrick Morgan from the Cycling Advocates Network in New Zealand which represents 28 cycling bodies went so far as to exclude 'lycra-clad' sports cyclists from a role of cycling advocacy and positive cycling promotion to the disappointment of many in the audience. The general consensus was that an internal conflict between different rider types is futile when the goal is advocating and promoting cycling.

Patrick Morgan of the Cyclists Advocate Network in New Zealand
Normalising cycling by showing cycling as an every day activity where riders can wear normal clothes can help change the media perceptions that cycling is only a niche activity. The women orientation Frocks on Bikes movements have proven popular as they demonstrate to other women that bike riding can fit into their everyday lifestyle and they too 'can look fantastic'.
Patrick Morgan struck a chord when he discussed the role of bicycle riders in society today "you can't talk about blacks, cripples or gays the way that people talk about cyclists". The comparison with homosexuality and the achievements of the gay community in achieving equality was recognised by a number of speakers. Another New Zealander and openly gay Auckland politician Christopher Dempsey stated that he has more rights in society as a gay man than as a cyclist.
Sjors Van Duren from Arnhem Nijmegen in The Netherlands introduced the theme of building an identity for his regions cycle infrastructure, branding was created and reflected throughout the cycleway with lighting, artistic and creative installations plus digital integration to further encourage riders. Frequent riders can 'trigger' more advanced features in an artistic light installations when they pass. This theme of 'creating a sense of community' was also approached by a number of other speakers.

Sjors Van Duren from The Netherlands
Peter Bourke from Bicycling Industries Australia and the Cycling Promotion Fund highlighted the traditional dis-unity and power struggles between advocacy organisations in Australia which limits potential for more effective and far reaching positive influence and action. 2013 saw the first occasion in which all of the major cycling advocacy and communities groups were united to promote the #vote4cycling campaign and the CPF aim to facilitate more collaboration and joint action between all of these groups who are, more or less, trying to achieve the same goals.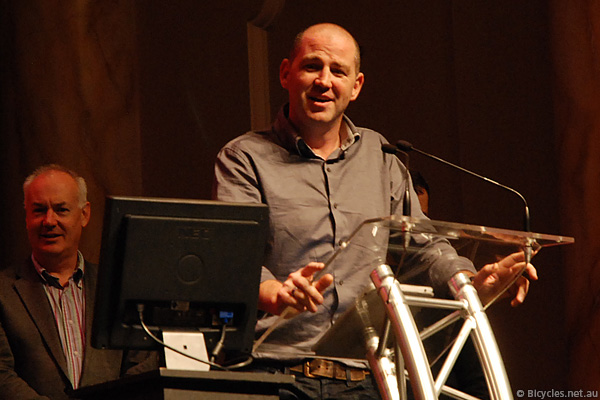 Peter Bourke from the Cycling Promotion Fund (CPF) and Bicycling Industries Australia (BIA)
While this is only a brief snapshot of some of the themes, one of the most exciting speeches was the the final speech by Florian Lennert of Innoz who discussed intelligent cities using Berlin as a prime example. While cities are mean to be urban spaces for people, the focus has changed to make them about 'the car' and this needs to be challenged. But it is not just about the bicycle – instead the transport alternative that make sense. Private car ownership in cities doesn't make sense for most people, (electric) car sharing however is progressive alternative. Beyond bikes, other small mobility devices such as Segway or even (kick) scooters can be highly effective transport options in cities.

Florian Lennert from Innoz, Berlin
For the average cyclist the indirect advantage of Velo City is that there is a lot of activity in the background to make your world a better place.
It was refreshing to meet so many mayors and representatives from councils across Australia (including from my own municipality). The local governments are important to cycling as 80% of the roads are within these jurisdictions so it is fair to ask, if there were no representives from your local council at Velo-City in Adelaide, what are they doing for cycling?
5 responses to "2014 Adelaide Velo-City Global Conference Wrap Up"