Highlights from Eurobike 2015 [photos – part one]
Published: 27 August 2015
Once again the world's biggest bike show has been used as the launching pad to release the latest and greatest in bicycles, gear and cycling technology. The new electronic shifting (eTap) from SRAM was finally unveiled while Spanish brand Rotor increase their presence in groupsets with hydraulic shifting and FSA (Full Speed Ahead) now also bring in wireless shifting. The power meter segment is exploding and the prominent crank based power meters from Stages move onto carbon cranks supporting FSA, Campagnolo, SRAM though not Shimano.
Trek and Specialized remain absent, preferring alternative formats to launch and present their range. Visitors to Eurobike will hardly notice the absence with the 13 gigantic halls over 100,000 m2 (plus outdoor areas and the Demo-Day) accommodating the who's who of cycling brands and personalities. Adding to the exciting and innovative new gear is the obligatory weird and wonderful, the new brands and the Asian faction seeking to delight visitors.
E-Mountain Bikes are the most notable trend, this is a booming segment in Europe, we recently featured Rotwild and brose e-bike motors on BNA, likewise E-bikes in general continue to grow and cyclocross remains a feature. On the flipside, there are fewer fatbikes this year, have we already seen the end of that trend?
Not a trend, but we also spotted number of non-bicycle exhibitors such as LG, BASF and automotive companies who are opening up further to the growth potential in bicycling, particular as technology, engineering and automation in cycling advances.
On the floors of Eurobike for Bicycles Network Australia, Alexander Weishaupt was on a mission to find some of the most interesting cycling products. This is part one of our highlights from Eurobike 2015.
Bike Style Trends Eurobike

Ridley Helium Carbon Fiber Road Bike Frame – with customisable colours

This new GT Cyclocross bike with the triple triangle simply has style

Alexander really fell in love with the Koga Beach-racer

What is it? It is awesome… and probably SteamPunk!

There were fatbikes like this Norco with Bionx, though fewer than last year

Cannondale always have something new, this is their 'tricked out' Slate
Parts, gear and Accessories

French brand Gille Berthoud with award winning  Soulor Saddle

Gille Berthoud also win an award for their Galibier Saddle

The full range of Brooks bicycle saddles – a brand that always charms

German brand Casco do helmets for many sports.. but always with style

Commuting style helmet by Casco

Bobike have a style and adjustable range of childrens bike seats

Back Forty's Carbon Fiber MTB rim was interestung

German specialist, Haero Carbon add a new handlebar to their range. 

Basil extend their range of pannier bags

There is always one, Csepel from Hungary show their true colours

Token MTB upgrade accessories

Red annodised version of the Token MTB upgrade Bling Box

Token Headsets

Token Bottom Brackets

PEdALLED urban cycling wear

And PEdALLED urban cycling shoes

You know you want a monkeylectric LED wheel for your bike

Fantastic kids helmets make bike riding even more fun (Crazy Safety)
E-Bikes at Eurobike

The German Schwabing E-bike  (VMAX: 45, 500W engin, 120Nm, 880 Wh batterie)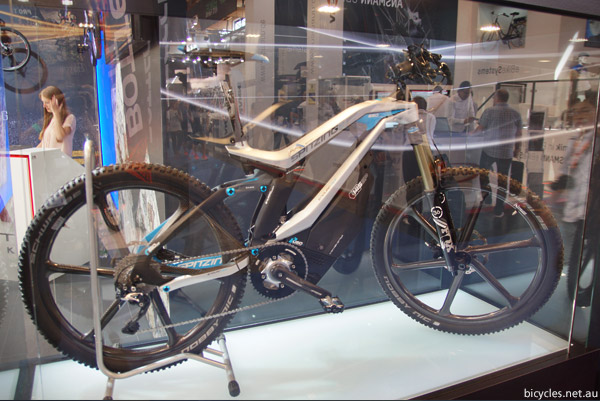 And it's big brother, the Spitzing E-bike

The Diavelo e-fat-bike with a brose e-bike motor

Another Diavelo, a functional urban commuting e-bike

The new brose (BMZ) display for their e-bike system

Teasi is an after-market alternative display for the brose with a lot of functionality

Continental are into the e-bike game as well with their own motor

The well known Copenhagen hub-drive e-bike motor was on display

Bosch active, perfomance and performance cx e-bike motors

Bosch performance cx the housing can be redesigned by the bike brand

Another e-MTB, the Cube hybrid SLT ebike
Stay tuned for more photos and highlights from Eurobike.
One response to "Highlights from Eurobike 2015 [photos – part one]"