Iron Arm Torque Wrench in Review – The Affordable Tool!
Are your nuts tight enough? Even worse, are they too tight? A torque wrench is as essential tool for modern bikes of the carbon fiber generation, but even classic bikes can benefit from 'correct torque' when it comes to tightening the bolts from a "she'll be right" tightness to knowing that it is exactly right.
Online retailer Cycling Express have an in-house brand of tools called "Iron Arm" and they asked me to take a look at their torque wrench. This was a big ask, since I said I was going to compare it with my Park Tool torque wrench. Keep reading to see if it measures up.
Why do cyclists need a torque wrench?
The torque wrench lets you tighten a hex bolt (Allen key bolt) to the exact force defined by the manufacturer to make certain that it is neither too tight or too loose. On critical points on a bike where parts are under compression, such as the seat post and stem, the manufacturer typically defines the required torque for the fasteners and prints the torque setting on their parts. More often than not, the torque setting for many bike fixtures is 5Nm (Newton Metre) and occasionally 6Nm. (This is so common that you can buy special Torque Keys which are Allen keys rated to exactly 5Nm or 6Nm. Useful for bike mechanics, for sure, but an adjustable torque wrench is probably a better option for the home mechanic.)
When the bolt is too lose or too tight, things can go wrong. Consider a fast descent when your seat post suddenly slips because the bolt too loose, or while racing up a hill and your handlebars snap because the over tightened stem caused a crack in the carbon fiber bars… the results can be catastrophic.
Since the introduction of carbon fiber bikes into the mainstream, torque wrenches have started to become popular as it is easy to damage a carbon fiber bike and simultaneously void the warranty when you over-torque the bolts. The clamping force on a seat post or handlebar can easily crack a carbon fiber part. It's definitely not like "the old days" where tight enough was usually good enough.
Iron Arm Torque Wrench
Traditionally torque wrenches are an expensive tool; usually you would budget between $150 – $250 for a specialist torque wrench accommodating 3 – 15Nm. These tools are more complex that many other bike tools and they need to be very precise. The Iron Arm torque wrench retails for $79, about half the retail price of my Park Tool Small Clicker torque wrench, but there are some differences which I will outline.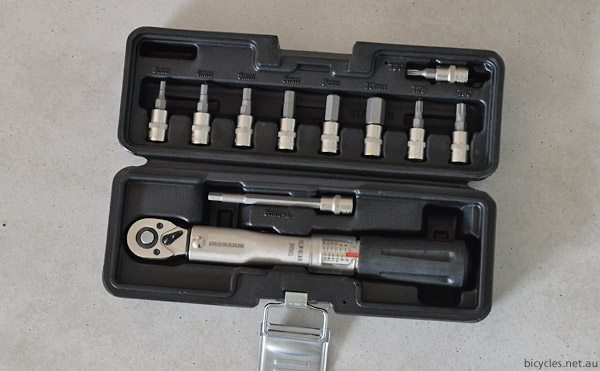 Both tools come in a solid plastic case, the Iron Arm has a larger case and comes complete with a range of hex bits (3, 4, 5, 6, 8, 10mm) whereas the Park Tool only has the torque wrench and adapter so you to have to purchase the bits separately. This puts the Iron Arm well ahead in terms of value since you have everything conveniently on-hand to service your bike straight out of the box.
The Park Tool however excels in two other areas. Firstly it's an established brand with an enviable reputation. Iron Arm is a new brand and you may even spot the identical tool marketed under different brand names with other online retailers.
Secondly, the Park Tool torque wrench provides the ability for setting exact and incremental torque. Between 3Nm and 5Nm you can set 3.4Nm, 3.8Nm, 4.2Nm and 4.6Nm. When you twist the handle it slots into each position so you have a very exact measurement, albeit you miss out on an exact 4Nm.

The Park Took (bottom) has defined slots for each torque increment

The Iron Arm torque wrench is 'twist and go'
The Iron Arm also has a twist handle but it doesn't lock into position. You can essentially set any torque setting but you have to rely on the gauge and your judgement. For example, the gauge has 2Nm, 4Nm, 6Nm, etc marked. To select 5Nm, a fairly common setting on the bike, twist the handle until it is between 4Nm and 6Nm. It means that you may be ever-so-slightly off, perhaps 4.9Nm or 5.1Nm.
I tested both wrenches against one another for a 5Nm torque setting and they were both on par, which is good news for the Iron Arm. As you tighten a hex bolt, when the wrench reaches the selected torque setting it 'clicks' and the handle continues to move a little more but without tightening the bolt further. This is the time to stop tightening, since it will engage again if you don't stop.
A small switch lets you adjust the direction of the torque wrench so it can be used clockwise or counter clockwise. When you are finished with the torque wrench, it is imperative that you release the tension and twist the handle back to zero for storage. You also need to be careful not to drop or otherwise abuse the wrench, since it may throw the calibration off.
Do you or don't you
The Iron Arm torque wrench is suited to the home mechanic who occasionally needs a torque wrench to tighten the hex bolts correctly. It is affordable, neatly packed, and has the hex bits you need to get the job done. It will give you peace-of-mind that you are servicing your bike and parts correctly without voiding the warranty. While it doesn't have the common 5Nm marked out, my test suggest that carefully twisting the handle dial to sit exactly between the 4Nm and 6Nm markings was indeed accurate compared with my Park Tool torque wrench.
Professional mechanics should opt for a torque wrench that provides exact torque settings both for convenience and accuracy.
The final word
At $79, the Iron Arm torque wrench is probably the most affordable adjustable torque wrench on the market. While it doesn't have the same level of accuracy as you may expect from a brand-name tool, it will suit the home mechanic and their fleet of n+1 bicycles.
The Iron Arm torque wrench is available from Cycling Express and more information on this and other tools from www.ironarmtools.com
Product Details:
Iron Arm Torque Wrench (RRP $ 79)
3 responses to "Iron Arm Torque Wrench in Review – The Affordable Tool!"