Wiggle dhb Aeron and Blok Cycle Kit in Review
Published: 25 September 2016
They were never flashy, but dhb, Wiggle's affordable house-brand range of cyclewear, are escaping the plain and simple designs that have long appealed to cyclists on a budget and are adding more than a dash of colour into the latest generation Aeron and Blok cycling kit. They are bright, bordering on garish, and won't suit everyone, but loud design is in fashion as the roads become catwalks for cyclists to show off the latest and greatest bikes, gear and kit. On any given weekend, you'll stand a good chance of spotting other cyclists in dhb cycle kit in the popular cycling locations across Australia, and I think that trend will continue with these new kit designs.
Before you click on the cursor that is probably hovering over the BUY button, I have taken the opportunity to test both kits and will share my verdict with you. The first thing you should know is that there are some slight variations between the Blok and Aeron range. The Aeron range is aimed squarely at performance cyclists, while the Blok range is orientated towards the recreational rider. I checked the sizing charts and sent over my sizes and two weeks later a package from Wiggle arrived on my doorstep.
Delivery times for online orders is one of the favourite topics of discussion in the Australian Cycling Forums and Wiggle have a fairly solid reputation for swift delivery. My own experiences have been good, though this cycling kit for review didn't go through the regular customer ordering system and was a fairly relaxed delivery.
There was a lot of gear inside the package: a set of bib knicks, short sleeve jersey and socks from each range, plus Aeron short finger gloves, seamless sleeveless base layer, super light jacket and a pair of light UV arm sleeves to round the kit off. It looked like I would have to do lots of riding to test this all out; it's a hard job, but someone had to do it.
Sizing and Style
The Aeron range is tight and smooth, it feels good on and I think it looks good too. I sized up as XL for the Aeron gear, as it is designed for a snug fit. At 6'2" and close to 90kg I'm not built like a stereotypical Pyrenees climber, so my arms and legs demand a bit more material to cover up properly, as does the centre. If you consider that bike kit these days ranges from the sublime to the ridiculous, the Aeron tends towards the former with dark tones and a few bright highlights. There is also an all black version as well as a turquoise jersey with white and magenta highlights.
In contrast, the Blok gear from dhb is only slightly less performance oriented. Far from a loose fit, it is still fitted but provides a little more room in each size compared with the Aeron range. I selected a large (L) for the Blok range cycle wear. When it comes to style, the Blok Prism gear is no shrinking violet so you're not going to be missed easily.
At the time of writing, the Blok Prism style jersey in review was not available on the Wiggle online shop, but there are darker style tops with patterns on the sleeves and back which are one step away from loud. The predominantly dark bibs and dark jerseys look good, though the patterned panels on the Blok range might still turn some traditionalists away.
The XL for the Aeron and L for the Blok were on the mark; nothing stuck out or went where it shouldn't.
Fit for a Cyclist
The Aeron base layer was nice and smooth, though it felt a little too long for the size. That is about my only gripe and I probably could have selected a size smaller for a better tail length and relied on the fabric stretch and a bit of compression on the torso.
The bib knicks were long enough to prevent unwanted Borat impressions, with a good sized chamois. Both bibs are very similar in the fit and the feel. While shorts and padding comes down to personal preference, I didn't have a fit problem with these at all. The only way to test if padding suits you is to wear them, as there's nothing visually to tell you what it's going to feel like.
There isn't a chamois on the market that will take every rider from zero to 200km a day on the saddle in pure comfort if your body isn't trained and up to the task. For the 50-60km rides I do, both knicks served me very well without irritation or chafing. One of the things I noticed is that the knicks are cut to shape and feel better on the bike than off. The tension in the straps tends to draw your shoulders down into a hunch; not quite as dramatic as a MotoGP rider (see my Conquest Cyclewear review), but if you plan on spending more than ten minutes walking around off the bike, think again because they do get uncomfortable if you stand up straight for too long.
The cycling jerseys were a good length and cut, aimed as they are towards sporting riders. The tighter sleeve grippers on the Aeron jersey, and similarly the looser cuffs on the Blok jersey, reveal the different cuts and audience. Full length zips should be the norm on cycling jerseys, and both these jerseys have them. It's nice to be able to unzip further down than the old style 6-inch zip to cool off on a big climb. While some premium jerseys have a little fold or flat to protect the zipper from irritating your skin, these jerseys did't have it. That may not worry everyone, though if it is a concern for you, now you know.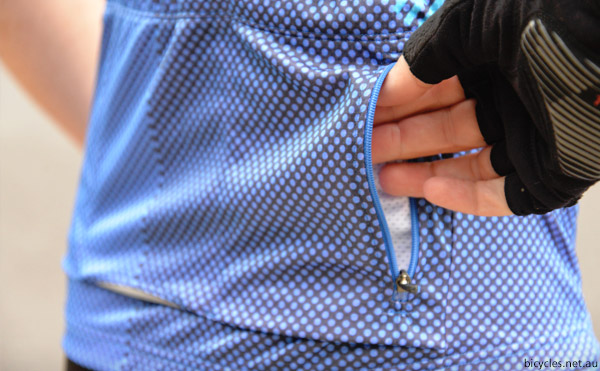 The jerseys include the usual three rear pockets, plus both the Blok and Aeron jersey have a zipper compartment on the right hand side for storage behind the right hand pocket. It is small enough for keys, credit card, or a smart phone and secure to give you peace-of-mind if you feel that the regular pockets are too risky. Don't expect to carry a day-long supply of food and spares in either jersey though, the close fitting jerseys will penalise you with discomfort if the pockets are too full.
When it comes to cycling socks, for me, socks are socks but it was still reassuring that there was no slipping, nor an overly padded feel. Length may not quite agree with The Rules, but they aren't far off. They also match the kit which is very important unless you want to forfeit all of your style points.
The cycling gloves are nicely made, though the thicker material of the back may get hot in summer; time will tell. The palm padding is comprehensive; the gel pad for the palm of the hand is generous and I didn't experience numb or sore hands. Getting these gloves off is not as easy as some other gloves I have. With only a web between the first two fingers to pull them off, the gloves ended up inside out every single time I took them off.
The Aeron UV sleeves are lightweight, so they could very well be a "wear-all-through-summer" accessory for Australian conditions. They have a little fold stitched into them to kink at the elbow a little. This stitching is a cheaper way to shape them from a straight cut of fabric, rather than cut the shapes with a bend before sewing. The good news is that this didn't irritate or annoy me as I anticipated. The fit for me was good though I don't have huge arms, but for riders with big arms they could easily become too tight. As summer sleeve, they are not designed to keep you warm so don't expect them to provide more than sun protection.
The Aeron Super Light Jacket folds up (or scrunches up) into a very small package, easily fitting into a jersey pocket with other items. It's not rain proof, but a light shower is easily dealt with. It provides good wind proofing, so I found it good for chilly 5°C starts. Breathability isn't a strong-point and you will sweat with this. This jacket has an outside pocket to save you from fiddling around trying to reach your cycling jersey pocket underneath.
Let's talk about Sizing again
Buying online is scary because of the uncertainty of whether the gear will fit. In my case, the Wiggle sizing charts were reliable when I used them and I got the right fit, except for the base layer. Take time to measure your current gear and yourself as it will pay-off. Wiggle has an exchange system if you do manage to get the wrong size, so swapping is straightforward. It does mean you have to be a bit patient as you'll have to wait a few days for substitute kit.
Quanto Costa?
The value for money of dhb cycle wear is difficult to ignore. At less than $200 (website prices today) for a performance level bibs and jersey pairing, the Aeron range is appealing. The Blok range will set you back less than $150 for the same items. Of course, there is cheaper kit out there, and some my even look good, but the fit and quality is not just the icing on the cake, they are key ingredients.
Do you or don't you?
Consider buying DHB cycle gear if:
• Performance matters
• Price matters just as much
• You love the look
Check out the Men's and Women's dhb cycle wear at Wiggle; dhb Aeron Range and dhb Blok Range