Ravemen CR900 and PR1200 Bike Lights in Review
Published: 30 August 2018
When autumn arrives and daylight savings ends, a young person's fancy turns to lights. And not just the youngsters, but everyone serious about commuting or riding over winter. A 5:00pm or later finish means riding home in darkness for most of Australia for a solid block of months. A 6am start for a weekend workout means the same.
Bike lights have massively benefited from LED and battery technology in the last few years, growing in intensity and outright power while shrinking in size. A common gripe with the proliferation of LED bike lights is the lack of beam definition, often coupled with an uncomfortably large amount of glare from high-powered, non-shaped lights. Some of the market offerings are just torches masquerading as bike lights. These are great for finding things in a dark room or camp site, not so good when riding down a road at night trying not to dazzle drivers or other riders. My previous lights have included these torches, and I always found myself running them lower than I would have preferred to avoid this. Often these have significant hot spots, which don't feather at the edges, further compounding the issue. Brighter is not necessarily better.
Ravemen, like a few others, have looked to avoid this by using a shaped beam headlight. This is not a new idea in the bicycle light business, but the improvement of plastic lenses should mean it becomes easier to offer and brings the price point of good lights down.
With the lumens available and the multiple modes, both of these lights run the gamut from 'lights to see by' to 'lights to get you noticed', which gives them a fair target audience.
RAVEMEN CR900
The CR900 is built for road biking, it says so right on the box. The size is right, being a little less than 100mm long. The look is right, with the black anodised aluminium body and black ends. Strapping this light onto the retro-ride or current carbon road weapon is not out of place. The rubber ladder-type fitting is right, not having to muck around with screws or nuts to get the light in place. Swappable, not dazzling, good looking. What boxes hadn't it ticked yet?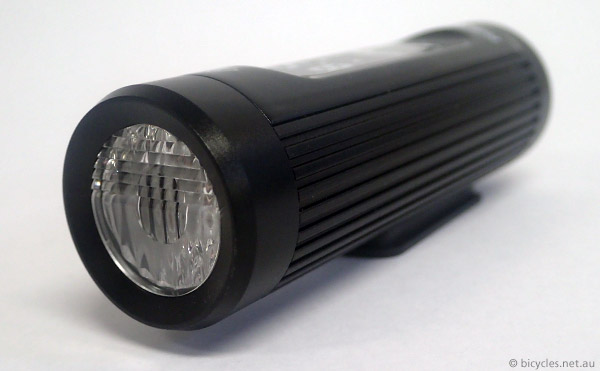 Come and get your beam on…
The box contains no real surprises. Contained within are the light unit, a handlebar mounting bracket, a USB charging cable, a remote control cable (more on this shortly) and two o-rings. The light itself feels solid without being overly heavy, with an aluminium body and solid plastic ends. A button on the end turns the light on and off, or can be pressed while on to 'hold' the current setting. You cycle through the modes with a small touch pad on the top, which is combined with a nifty little two digit LED display telling you (approximately) how much power is left in the battery. Moving the light for angle or direction often resulted in the mode changing due to accidentally touching the pad, so the hold setting helps avoid this.

CR900 Charging cable, mount and remote control button
One feature that jumps out of the ordinary for this price point is the remote control button. Again, this is not a new idea. Specialized have an optional remote available for their Flux Expert and Flux Elite lights, which comes in above this price point for the light alone. Bontrager have their Transmitr set, a button pad coupled with an Ion 700 front and Flare RT rear, again, at a much higher price (although this does include two lights). The remote button connects to the USB port at the rear, and can be fixed to the handlebars with the o-ring provided.
Press the button to cycle through the modes, just as you would the touch pad. Or hold the remote button in for a full-brightness blast at any stage from any light setting. Letting go returns the light to the last mode it was running in. For passing through a darker area, say under a bridge on the way home or an unlit corner with bad potholes, being able to bring full beam up without fiddling with the light and taking your hands off the bars is remarkably useful. While it would be nice to be able to choose to go up or down through the modes, I don't know of any light that does this, though pressing the button up to six times for a complete cycle doesn't take long.
The light has 6 modes, although the rapid flashing and pulse flashing are somewhat similar. Rapid is the typical flash on and off, while pulse is a bright blast every second with a background level of low light. Run times appear to sit close to those listed in the table below.

Source: Ravman Website
For the commute and morning starts I used this for, Mid and Pulse Flashing were the most common modes. Enough to see by on a dim morning and enough to get noticed in the higher traffic areas. High would get you through an area without street lighting very easily, and people would find preferences for the other modes.
The 'self-defining' feature is probably not of real value to anyone but O.C.D. light maniacs. To use this, hold your finger on the touch pad until the light level you want is achieved. The preset modes would cater for almost all needs, so unless you specifically want 740, 56 or 300 lumens for some reason, the self-defining feature probably won't see much use.
Being 900 lumens (I have no way to confirm the actual output) means this thing is seriously bright. This is where the shaped beam is important. The relative brightness and spread of the beams is seen in this series of photos. The centre of the target is at the centre of the light. You can see the light cutting off quickly as it rises upwards, throwing light down and across, where you need it. Instead of at oncoming riders, shared path users, or drivers faces.
Please keep in mind, the following are comparative examples to observe the beam spread and is not intended as a representation of actual light output.

CR900 Beam Pattern on Eco – 35 Lumens

CR900 Beam Pattern on Low – 200 Lumens

CR900 Beam Pattern on Mid – 450 Lumens

CR900 Beam Pattern on High – 900 Lumens
The light recharges through a micro-USB port at the rear, under a rubber flap. The light is IPX6 rated, and aside from the port and on/off button, there are no openings in the unit. This same port is used for the remote control button. Using the remote appears to somewhat defeat the IPX6 rating.

The USB port accommodates both recharging or the remote control light switch while riding
I did have an issue with the mount on older small-bore bars, where it began to slide around the bars after some bumps, lifting the beam. Nothing a piece of rubber under the mount next time didn't fix, though. For 31.8 bars the fit of the bracket seems better and this did not seem to happen. The narrower body means it should slot in around anything else you may have on your bars or stem, though a little shuffling may be inevitable.
For a dark-start/finish commuting or workout ride front light, this is nearly spot-on. The limited battery life won't cut it as a multi-day light for touring unless you could recharge it on the go. The lack of a higher power mode somewhat limits it to road riding, as it won't light up enough trail for most off-road riding, particularly at speed. For those with an eye for a little more style, the CR900 would be a good choice. It's not large, it looks good and it does a fair job from a small unit.
Price: Available from oline retailers from $110-125
(claimed 50,000 hour LED life = c.$0.02/hr)
More Details: Ravemen CR900
RAVEMEN PR1200
The PR1200 is built for road and mountain biking, it says so right on the box. It is a lot bigger than the CR900. But, like the smaller sibling, the unit is an aluminium body with plastic end parts and lenses.  There are two lenses at the front, one for the adjustable mode beam and one for fixed high beam. Ravemen refer to the modes as 'ROAD' (shaped beam LED active) and 'MOUNTAIN' (both LED active).
The mounting system is different with the PR1200, switching to a finger screw clamped fitting.  The PR1200 box also has two strips of adhesive-backed rubber included. These may be necessary to fit due to the weight of the unit, to stop it dipping forward or moving about on the handlebars. It is balanced reasonably well on the mount and road vibrations did not appear to move it very much. If you are on a trail you may get some beam wobble or possible twisting of the mount. A remote control, as well as a charging cable and two o-rings are included.
Shedding light on the subject…
The PR1200 is bigger, imposing and heavy, with its dual buttons and digital LED display. This unit also has a neat trick. It doubles as a powerbank, with a standard USB port on the rear for charging devices. Though any charging you do will rob battery power from the unit and shorten your light output times, there is a 5200mAh battery on board, so there should be loads of juice for both aims.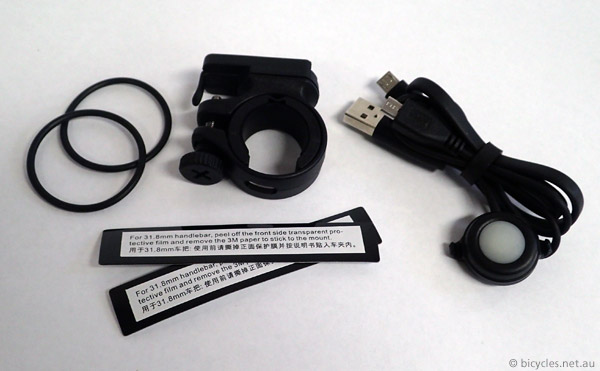 Despite being 'only' 600 lumens, a shaped beam avoids blinding everyone in your path. None of the settings felt too low to be of any use, even at 100 lumens there was enough light thrown to be seen. The pulse mode on the PR1200 is a stepless rise and fall in the light intensity, like a visual sound wave, which is less offensive than some flashing mode lights. The remote button cycles through the modes, but to swap from 'road' to 'mountain' you have to press the big button on the unit itself.
The two-digit LED display on the unit tells you approximately how long you've got left until the battery level falls too low. Run times as tested appear consistent with those claimed in the table above, which should see people get a few nights of commuting out of a charge. The display dropped by an hour when used for that length of time on a night ride, though this has not been tested to totally blackout.

Source: Ravman Website
As with the CR900, the beam shape quickly cuts off above horizontal, as the photos show. Activating the 'mountain' setting throws a lot of light which, at almost dead-centre and not shaped, illuminates a lot of territory. I wouldn't think of using this on a shared path or maybe even some road areas, but for the trail riders this may well be a widely-used mode. Again, the photos represent the light beam shape at different intensities though are not intended as a guide to judge the brightness.

PR1200 Beam Pattern on Road Eco – 100 Lumens

PR1200 Beam Pattern on Road Low – 200 Lumens

PR1200 Beam Pattern on Road Mid – 400 Lumens

PR1200 Beam Pattern on Road High – 600 Lumens

PR1200 Beam Pattern on MTB Mid – 600 Lumens

PR1200 Beam Pattern on MTB High – 1200 Lumens
The Ravman PR unit fits the CR mount. Both mounts work for both lights, so I could swap between bikes without undoing the mounts every time. This would only be useful if you had both units, although the CR mount is far easier to swap. The reason I had to do this was that the PR mount did not fit the 25.4/26.0 centre sleeve of older handlebars. The website says that it is compatible with 31.8mm and 35mm handlebars. There is a spacer supplied with the mount that fits 22.2mm, but there is no in-between sizing. Whether spacing the 31.8 down to 25.4 would work with rubber strip or a nylon/plastic spacer, I have not been able to test.
The CR mount is far more versatile and easily installed. The bigger PR light unit does not wobble or dip on this mount (as long as you have a little piece of rubber in place), but for those with older handlebars, the PR1200 may prove difficult to mount.
The PR1200 is IPX8 waterproof, meaning it can be submerged. Although opening the rubber flaps to charge a device or connect the remote would probably negate this. If the flaps are all closed and the unit is underwater, it may mean you or your bike also are.
The PR1200 is a bulkier unit, but the bigger battery needs a home. It's still not massive, but it may interfere with items already mounted on your bars. I had to shift the Garmin back on the stem to fit this on, but having a device on the handlebars on each side of the stem would be easy enough to manage. The ability to charge another device on the go seems more gimmick than genuine need, though you could very well be out for long enough to have to recharge a GPS without requiring the light (as long as you've got a cable). Forward planning would negate this by charging everything prior to riding.
Price: Available from online retailers from $140-150.
(claimed 50,000 hour LED life = c.$0.027/hr)
More Details: Ravemen PR1200