The Taste Test – New CLIF Nut Butter Energy Bars
Published: 25 September 2018
CLIF have expanded their tasty range of energy bars with a selection of three different flavoured of energy bars which each include the new nut butter filling. The obligatory disclaimer is that if you have nut allergies, then these are obviously not for you, the label warns, "Contains peanuts, may contain tree nuts, milk, wheat and soy." But if you enjoy nuts without any nasty side-effects and already know that outdoor adventurers have long relied on nuts for their energy value, then read on.
For this review I received three bars and also compared with a few other flavours that are already available. It's also worth noting is that the brand globally launched seven flavours though in Australia only the following three are available for now.
Each of the bars have a crunchy outer and a 'nut' filling, the Peanut Butter contains… you guessed it, a peanut butter filling. The Chocolate Peanut Butter is a variation with chocolate flavoured outer and the peanut butter filling. And drum-roll, the Chocolate Hazelnut CLIF Bar has a chocolate hazelnut filling.
Serving size
The new 'Nut Butter Filled' range comes in the same sized packaging as the current bars, but the keen eyed will notice that there is a drop in the weight of the contents. The energy bars in the new 'nut butter' range have 50g net weight which is a full 18g less than the regular CLIF Bars… let the Weight Weenies rejoice.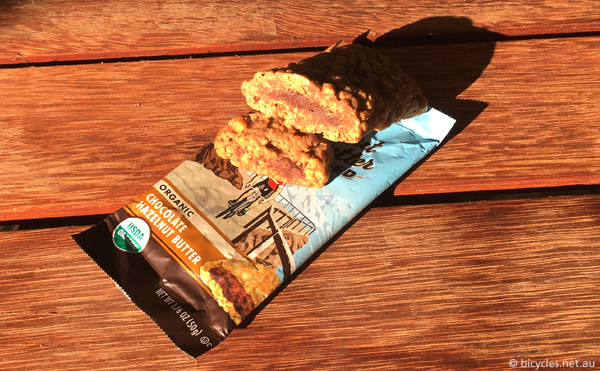 This compact size is not all bad though, in my case I've found that the regular size CLIF Bars can be a bit on the larger side, especially for shorter duration rides where a full bar is a bit too much.  You could also argue that in pressure situations, a smaller serve is more easily consumed when time is of the essence. Despite the lighter bar, instead of $2.95, these bars are $3.49 each, which at a glance seems 'all mixed up'. But it is fairly common in many types of food (like chocolate) that the nut versions are priced higher to reflect the increased cost of this ingredient.
The Nut Comparison
As a comparison, the dietary information of the Peanut Butter bar is set against one other CLIF Bar. If you are following a stricter dietary approach to your nutrition, then take the time to evaluate each flavour. Or you could just do the taste test.
Peanut Butter
Nut Butter Filled
Cool Mint
Chocolate Energy Bar
Serving size (g)
50
68
Energy per Serve kJ
946.3
1046
Total Fat (g)
10.8
5
Potassium (mg)
151.4
225
Sodium (mg)
164.2
163
Total Carbs (g)
27
44
Dietary Fibre (g)
3
4
Total Sugars (g)
9.7
20
Protein (g)
6
10
The Peanut Butter variant that I tried could be described as a smooth peanut butter centre wrapped in the familiar Crunchy Peanut Butter. But do you need a glass of milk to wash it all down? The double peanut flavours found in the Peanut Butter version can be a mouthful, whilst the flavours are not overwhelming or overly sweet, a contrast in flavours between the filling and the outer would be good. The same may be true for the Chocolate Hazelnut because the nut better and the main bar are both chocolate, but then again, it's chocolate and who doesn't like layers of chocolate?
Speaking of Chocolate Hazelnut, it reminds me of how ex-pro Jan Ullrich had a tendency to go overboard in the offseason with Nutella – heating a glass of the chocolate gold in the microwave before attacking it with a spoon. Then he discovered deep friend mars bars… the CLIF bar alternative is a little more decent and won't get you into as much trouble.
These three flavours are fairly 'safe' for the Australian market but I would really like to try the other four flavours which not available; Coconut Almond Butter, Banana Chocolate Peanut Butter, Blueberry Almond Butter or Caramel Chocolate Peanut Butter. Sounds like the flavour selection you would also get from a gourmet deli or hipster café. In fact, out of the entire CLIF range of 20 flavours, eight are available in Australia.
My favourite was the Chocolate Peanut Butter CLIF bar, a combination of a semi-dark & rich chocolate outer bar and creamy peanut paste centre.  Both this and the Chocolate Hazelnut Butter version give you a contrast in sweet/rich flavours and depth in flavour to make them enjoyable during the ride.
Texture & Mouth-feel
The crunchy peanut coating is familiar, if you know what peanut butter tastes like. It's soft to chew, even in cold weather, but the smooth peanut butter filling adds a secondary texture that helps you chew and get the bar down rather than clagging the mouth up.
The CLIF range already has a (regular) Crunchy Peanut Butter bar and in comparison, I found the overall texture better. Along with the smaller total size it is much easier to consume.
Most keen riders will have experienced bars that are hard to swallow so for want of a better description, the nut butter filling is a bit of a lubricant. In cold weather they don't turn into bricks either so overall, a nice bar that doesn't make it hard to consume.
Something Good or just Different?
Being Organic and Low GI are added benefits, but for me, the biggest tick is that they simply taste good and are not overly sweet. A lot of other bars a single taste and consistency and adding the textural contract between the outer bar and the filling is the kicker.
Some will like the smaller sizes but it will depend on your ride distance as to whether it is a plus. The price of $3.49 however may put the bars into a 'sometimes' category over the regular CLIF bars at $2.99. But if you are serious it could also come down to your nutritional requirements on the bike and what gives you the right boost.
Over years CLIF have maintained a good reputation and though they are not the cheapest bars on the market, where other bars are sometimes hard to chew and devour when you are cycling to your limits, these are worth trying. I can't wait to get my hands on some of the other flavours, especially the Fruit Smoothy range with Strawberry, Wild Blueberry and Tart Cherry Bars.
For more details and retailers: clifbar.com.au